Sundance 2014: Lone Star Films and Other Highlights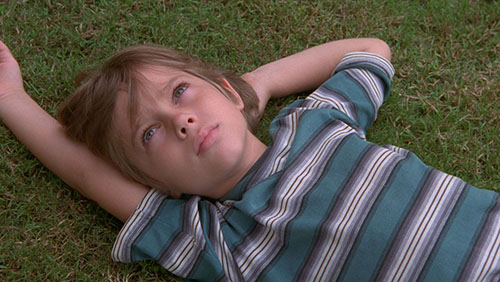 With 121 feature-length films representing 37 countries screening at the festival between January 16-26, it's been quite a treat putting together this year's "must-see" list at Sundance this year.
A lot of interest is building for Austin Film Society (AFS)-supported films at the fest, but the latest buzz is focused on filmmaker and AFS founder Richard Linklater. Special preview screenings of the anxiously anticipated movie Boyhood, written and directed by Linklater and featuring Ellar Coltrane (seen at top), will take place at this year's festival with a premiere on Sunday, January 19.
Boyhood follows 12 years in the journey of Mason (Coltrane) from childhood into adulthood. He is influenced and supported by his parents, portrayed by Ethan Hawke and Patricia Arquette, and his sister Samantha, portrayed by Lorelei Linklater. What makes Boyhood so unique and captivating is that this drama was filmed over several short periods from 2002 to 2013.
It was also announced yesterday that Alexander Payne (Nebraska) and and co-writer Jim Taylor (Sideways) have signed on as executive producers for Kumiko, The Treasure Hunter, the latest film from local filmmakers David and Nathan Zellner (Kid Thing). Rinko Kikuchi (47 Ronin) stars in this drama about a lonely Japanese woman's journey from Osaka to the United States in search of a mythical pile of money buried in Minnesota. The film also features music from Austin-based "indietronica" band, The Octopus Project.
Another AFS-supported title that has received a bit of buzz recently is Kat Candler's feature-length film Hellion, starring Aaron Paul and Juliette Lewis and featuring Josh Wiggins as Jacob Wilson (pictured above) as a young boy who must face the consequences of his delinquent behavior. Written and directed by Candler and produced by Jonathan Duffy and Kelly Williams, Hellion also features the work of Austin-based Art + Labor's Andrew Logan and Lauren Sanders. Hellion received an AFS Grant in 2013, and the San Francisco Film Society also supported this movie with a post-production grant.
I'm hoping to speak with Toby Halbrooks and the rest of the Dallas filmmaking team from Sailor Bear Productions about their film Listen Up, Philip as well as the short Dig, which stars Jonny Mars. I thoroughly enjoyed a preview of this gem that relies on very little dialogue and the actions of a father as seen through his daughter's eyes. See if you can catch a familiar face from Sailor Bear's previous short film, Pioneer.
I am also intrigued to ask David and Nathan Zellner about Kumiko, The Treasure Hunter. Watch what the Zellners have to say about their eighth time at Sundance -- but first time in competition -- and the story behind their movie in this Sundance "Meet the Filmmakers" segment below:
A few other films connected to Texas will be screening at this year's Sundance Film Festival. Based on the book by Lone Star author Joe R. Lansdale, Cold in July is a drama set and partially filmed in East Texas. This thriller stars Michael C. Hall and Sam Shepard as two fathers who are forced to call a truce and band together to uncover the truth buried beneath lies and corruption.
The One I Love stars former Austinite Mark Duplass along with Elisabeth Moss in a comedy/drama about a weekend getaway for a couple in a failing marriage. And the Alamo Drafthouse is hosting a beard contest in Park City in honor of the beard sported by "Austinite by marriage" Macon Blair as the outsider Dwight in Blue Ruin, which also screens at the fest. Blue Ruin screened at Fantastic Fest in Austin last year (Jette's review).
There are several films from other parts of the world that I'm eager to watch. At the risk of setting my expectations too high, the film I'm most looking forward to is the compelling Alive Inside: A Story of Music & Memory. This documentary by filmmaker Michael Rossato-Bennett was inspired by the work of Dan Cohen and the Music and Memory project. The film follows Cohen, a social worker who decided on a whim to take iPods to residents at a nursing home.
Staff were amazed by the reactions of several residents who were despondent and suffering from memory loss brought on by Alzheimer's and other degenerative diseases, as they seemed to "quicken" when they listened to music from their past. Recognizing the significance of these events, Cohen approached renowned neurologist Dr. Oliver Sacks. Through the use of multimedia -- black-and-white and color cinematography, archival photographs, and animation -- Rossato-Bennett follows the team through their investigation. Alive Inside weaves and paints a visual and auditory landscape that demonstrates how music can literally transform the lives of the elderly and cognitively disabled by awakening and exposing deeply locked memories.
This film raises critical questions about how we as a society care for the elderly and afflicted. Watch the touching and compelling video of Henry that inspired this film below:
Here are some other non-Texas related features and documentaries I'm especially looking forward to viewing:
Be sure to check out the film programming at this year's Sundance, and tell us what movies you would be interested in seeing (and which ones you hope make it to SXSW in March) in the comments below.