Holiday Favorites 2013: PJ Raval Enjoys a 'Smiley Face'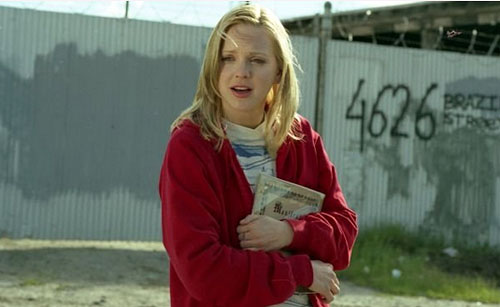 Welcome to Holiday Favorites, a series in which Slackerwood contributors and our friends talk about the movies we watch during the holiday season, holiday-related or otherwise.
Just as I thought we were entering an It's a Wonderful Life trend of holiday favorites this year, Austin cinematographer and filmmaker PJ Raval surprises me with a selection I couldn't have predicted. Raval's most recent film is the documentary Before You Know It (Don's review). He's worked as DP on Austin movies such as The Bounceback and Fourplay, and on the Academy Award-nominated documentary Trouble the Water, among many other films. And you might have seen one of the delightfully family-unfriendly music videos he's shot for local artist Christeene.
Raval's pick is a comedy I saw at SXSW 2007 and loved -- Smiley Face (my review) -- but never thought of as a holiday possibility. Until now. Here's what he has to say about the film:
One of my favorite winter holiday movies is Smiley Face by Gregg Araki. Now trust me, anyone who knows me personally will be shocked I'm listing a "stoner comedy" but I assure you, Smiley Face is an amazing piece of comedy filmmaking.

The film stars the wonderfully hilarious Anna Faris, who plays an unambitious actress, "Jane F." She unknowingly eats her roommate's cupcakes laced with pot and then goes on an epic series of stoner misadventures filled with accidentally trying to sell medical marijuana to a casting director (Jane Lynch), accompanying her roommate's friend (John Krasinski) on a trip to the dentist in exchange for a ride to Venice Beach, to stealing an original copy of Marx and Engels's Communist Manifesto (yup you read that correctly).

When Faris ends up in a meat-packing plant and pretends to be a union organizer and launches into a Marxist speech about the industrial oppression of labor (completely stoned, mind you... you can only imagine ...) it's beyond one of the funniest scenes in a movie, its simply brilliant.

I first watched Smiley Face at home when I wanted to hibernate and relax, and believe me, it's the perfect movie to veg out to on the couch with some junk food and just laugh and feel good about being lazy and ignoring the outside world. After all, isn't that what winter holidays are all about?
Want to watch? Smiley Face is available on DVD. You can rent the disc at Vulcan Video (and possibly other local rental stores) and Netflix, or buy it from Amazon or other retail outlets, although it might be difficult to find. You can stream it if you have DirecTV, but it's not otherwise available online (it's a Starz release, Netflix doesn't have those anymore, boo).