SXSW Review: Before You Know It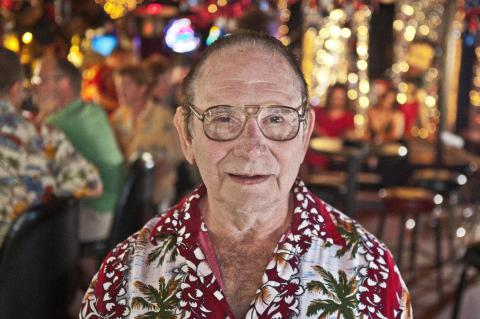 You never think about getting older when you're younger. But before you know it creeps up on you, and you're there already.
-- Robert Mainor, Before You Know It
Old age can be hard enough for anyone lucky enough to reach that stage of life; imagine how much more difficult it can be for gay people in a society that hasn't fully accepted them.
The lives of senior citizens in the LGBTQ community are the subject of Before You Know It, a deeply moving documentary that presents the often unhappy and seldom-discussed realities of being elderly and gay. Austin filmmaker PJ Raval's ambitious film introduces us to three elderly gay men who lead disparate lives, and their stories tell us much about a largely ignored segment of our society.
The men are all gay, but have little else in common. Dennis Creamer is a widower who did not come out until his seventies, after his wife died. He divides his time between a Florida trailer park and Rainbow Vista, an LGBTQ senior living facility in Portland. Often lonely and looking for a new partner, Creamer sometimes wears women's clothing and goes by the name Dee, which he does openly at Rainbow Vista and on gay cruises and vacations.
LGBTQ activist Ty Martin lives in Harlem and is a director of an advocacy group for gay seniors. In a committed longtime relationship with his partner, Stanton, Ty has longed to get married for many years. When New York finally legalizes gay marriage, he's thrilled to be best man in the wedding of two gay friends, but still can't convince the loyal but reluctant Stanton that marriage is a good idea.
The most entertaining of the three is Robert Mainor, the extraverted owner of Robert's Lafitte, a Galveston gay bar well known for its kitschy drag shows. A great storyteller and an unapologetic hedonist in his youth, Mainor -- whose longtime partner died years earlier -- struggles to keep the bar open in the face of legal troubles, changing times and his own health problems.
Via interviews and intimate glimpses into the three men's daily lives, Before You know It shows us that they must deal with the same problems straight seniors do -- failing health, loneliness, ageism, distant relationships with their families, lack of community support, etc. But they also deal with hardships that LGBTQ people of all ages suffer -- discrimination, ostracism and reluctance to be open about who they are, for fear of alienating friends and family. In many ways, they have the worst of both worlds.
Before You Know It is an immensely poignant and powerful movie, and certainly the most emotional documentary I've seen recently. Its tone is relentlessly personal; it may be about LGBTQ issues in a broader sense, but it connects with us because it keeps a tight focus on three grippingly sympathetic lives. Sadness abounds, from Creamer's desperately lonely moments to Martin's frustration as he reaches out to judgmental homophobes, and to Mainor's realization that he can't keep death at bay forever. But there are joyous and triumphant moments as well; we ferl hope for the LGBTQ community as we witness boisterous Mardi Gras celebrations at Robert's Lafitte and the ebullient New York City Pride Parade after New York legalized gay marriage.
Raval and his crew have assembled a very impressive film, especially given its microscopic budget and the logistical challenges. (Before You Know It was filmed in four far-flung cities and on a cruise ship, and Creamer's story spanned three years.) Everything falls together seamlessly, and the diverse locales, fascinating parade of interview subjects and ever-changing moods keep things interesting. My only complaint is that the film is slightly repetitive, revisiting some themes an extra time or two after we've gotten the point. (For example, the drag queens at Mainor's bar are a hoot, but we see more than enough of them.)
Before You Know It is a strong contender for a SXSW Film Festival award or two, and deserves whatever it wins. It's personal in scope and yet universal in theme -- gay or straight, we all hope to grow old happily and we all will die. Hopefully, the film's unforgettable look at three elderly gay men's lives will call attention to the plight of LGBTQ seniors everywhere.
Austin/Texas connections: PJ Raval lives in Austin, and film editor Kyle Henry is a former Austinite. Parts of Before You Know It were filmed in Galveston.
Before You Know It screens at SXSW again at Violet Crown on Wednesday, March 13 at 6:15 pm and Thursday, March 14 at 3:45 pm.