Holiday Favorites 2013: Lars Nilsen Has a Few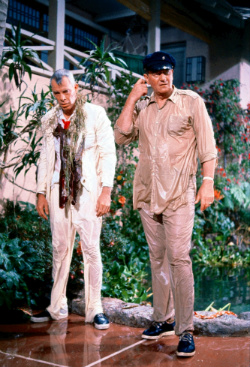 Welcome to Holiday Favorites, a series in which Slackerwood contributors and our friends talk about the movies we watch during the holiday season, holiday-related or otherwise.
Lars Nilsen (@thelarsnilsen), programmer for the Austin Film Society, can't pick just one holiday film:
I have to admit I'm not a giant Christmas fan. I've never been religious, so that whole side of the holiday escaped me and I grew up poor and poor kids have a much different experience of Christmas than well-off kids. I've never much cared for Christmas movies, music or anything. HOWEVER -- there are a few Christmas movies I really like a lot.
It's a Wonderful Life (1946) is of course one of the most popular holiday movies but I have never been able to suppress a thought that most people are watching it wrong, and that some of the people who would enjoy it most avoid it because they think it's some kind of saccharine Hallmark card. It's a work of art, filled with darkness, made by WWII veterans who had just looked down the cold, dark well of death and were in search of a reason to go on.
James Stewart, just back from Europe, was a highly decorated Colonel in the Army Air Corps and had flown scores of bombing missions. He was sick of the killing and the inhumanity and when he came back to Hollywood he planned to quit making movies. He didn't consider it a proper profession in light of everything he'd seen. Frank Capra convinced him otherwise and this movie is an exorcism of that bile and sorrow. It's not a film full of sunshine and light. People will often mention Capra and this movie and particular as the very picture of sentimentalism. That's exactly what it isn't. It is a movie that is full of rich emotions, but it's all deserved. It has been paid for.
Donovan's Reef (1963) (pictured at right) is a thousand miles away from It's a Wonderful Life, but it is also the work of a master (in this case John Ford) and it's a terrific Christmas movie. Except for a brief interval in snowy Boston it takes place in the South Pacific. John Wayne plays Donovan, who passes his time in his bamboo bar-room with his old war buddies who also decided not to go back to the mainland after the war.
One of his pals, Doc, played by Jack Warden, has three children. Their mother was the native princess of the island, where Doc stayed to provide medical care. When Doc's earlier (Anglo) daughter visits, with the aim of having his inheritance voided by means of a morality clause (it was considered especially immoral to cohabitate with a non-white woman apparently), Doc has his pal Donovan impersonate the children's father, but the ruse falls apart as Christmas approaches and the family (and the extended family of the island's inhabitants) are drawn together by bonds of love.
Ford excels at this kind of thing, and the makeshift Christmas pageant in a leaky church during a monsoon may cause your eyes to spring a leak of their own. With Lee Marvin, whose character returns to the island every year to resume his epic 22-year brawl with Donovan, and Cesar Romero as the island's colonial governor.
The Thin Man (1934), as far as I can see, has no lessons about Christian charity or the meaning of the season. But it does take place during the holidays, and it depicts the indoor destruction by gun of Christmas tree ornaments for fun. It has some of the best dialogue in any movie (the book is really good too) and William Powell and Myrna Loy have great chemistry. Warning, you'll probably have to have a drink or three while you watch this, just to keep up. If you haven't watched this, you need to go do that right away.
Related: Kim LeBlanc wrote about The Thin Man last year, and Samantha Rae Lopez also picked It's a Wonderful Life.
Want to watch? It's a Wonderful Life is available on DVD and Blu-ray, and you can buy a digital copy from Amazon or iTunes. Vulcan Video has it for rental at their north location. Donovan's Reef is free to stream on Amazon Prime and also available on DVD. The Thin Man is available on DVD (Vulcan has this one, too) and you can rent or buy a digital copy from Amazon.