Holiday Favorites 2013: 'It's a Wonderful Life' for Samantha Rae Lopez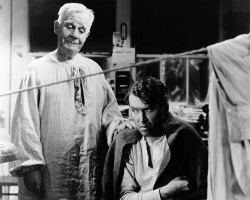 Here's the first of our 2013 Holiday Favorites (see 2011 and 2012), a series in which Slackerwood contributors and our friends talk about the movies we watch during the holiday season, holiday-related or otherwise.
We're starting off with this selection from Samantha Rae Lopez (@sraelopez), producer of short film The Book of Joe and program coordinator at Latinitas, a local organization working to empower young Latinas through usage of tech and media. Here are her thoughts on a Christmas favorite:
If you are a frequent Slackerwood reader, chances are you have some familiarity with Frank Capra's 1946 film It's a Wonderful Life. If you haven't seen this film, stop what you're doing and find it on DVD, iTunes or Amazon streaming. Despite the fact that many would argue that this movie is an "American Christmas Classic," in reality the holiday itself is merely referenced and not crucial to the plot progression. Much like films such as Lethal Weapon, Kiss Kiss Bang Bang (Shane Black seems to love Christmas) and Trading Places, It's a Wonderful Life can also -- arguably -- fall into the "anti-Christmas movie" sub-genre.
George Bailey, played by a post-war James Stewart, is a small town business man with a strong stake in the town of Bedford Falls. When his business is held captive by the greedy Henry F. Potter (Lionel Barrymore), Bailey has suicidal thoughts which reach his guardian angel, Clarence (Henry Travers). Bailey is granted a rare glimpse at what the community would be like without him and gets a new found appreciation for everything he has worked for; his friends and family.
This heartwarming, feel-good classic is just as relevant today as it was in 1946 by enforcing the importance of human interaction over money, compassion over greed, which is also often times associated with the spirit of the holidays.
What gets me in the mood for watching this black-and-white film that clocks in at just over two hours, is the theme that runs throughout which can be best summed up by a quote from angel Clarence. "Remember, no man is a failure who has friends." I highly recommend placing this film at the top of your "Getting In The Mood For Christmas" list even though the film can hold its own when you need a morality boost any time of the year.
Want to watch? It used to be that you could count on this movie being shown sometime during the holiday season on network TV, but that doesn't seem to be the case anymore. You can definitely catch it on the big screen on Wednesday, Dec. 4 at the Paramount. In addition, it's available on DVD and Blu-ray, and you can buy a digital copy from Amazon or iTunes. Vulcan Video has it for rental at their north location, too.