Holiday Favorites 2012: Kim LeBlanc, 'The Thin Man'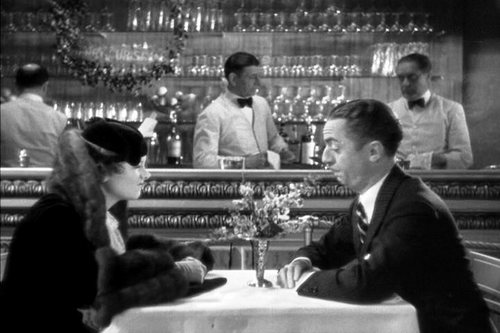 Welcome to Holiday Favorites, a series in which Slackerwood contributors and our friends talk about the movies we watch during the holiday season, holiday-related or otherwise.
Kim LeBlanc, location scout for the Texas Film Commission and recent newlywed, tells us about her pick:
Don't get me wrong, I could watch George Bailey run up and down the idyllically snow-covered streets of Bedford Falls joyfully shouting "Merry Christmas, movie house! Merry Christmas, emporium! Merry Christmas, you wonderful old building and loan!" until the cows come home. There's a reason why the classics are the classics. And no matter how many times I've seen it and no matter how hard I try, every time a bell rings, not only does an angel get its wings but invariably, a Kim also has to finish off a box of Kleenex. That's just the way it is.
Yet aside from the more obvious holiday fare out there -- i.e. It's a Wonderful Life and White Christmas (oh those fabulously festive dance numbers!) -- as of late I have to say my favorite flick to watch during the holidays is quickly becoming The Thin Man (1934).
Hold the phone, now I know what you're thinking, and no, I wouldn't dare to call The Thin Man a holiday classic. No, not exactly. But ... if you've ever thought your standard holiday fare "could use a smart dose of sarcasm and a little more gin; if you prefer your holiday films feisty, and your love stories clever" then this just might be the non-traditional, holiday-inspired flick you've been looking for to gently throw into the mix (especially after you've seen A Christmas Story play 8 times in a row on Christmas Day during TBS's hypnotically nonstop holiday movie marathon-palooza).
Set in New York City on the wings of Prohibition's repeal, this romantic-screwball-comedy-meets-mystery-romp takes place amidst a slew of holiday celebrations between Christmas and New Year's Eve and stars the incomparable William Powell and Myrna Loy as the classy and sassy husband-wife detective team, Nick and Nora Charles.
The Thin Man was the first of six films in the titled series and marked the second of 14 films pairing Powell and Loy. The effortlessly graceful swagger and the dazzling chemistry between Powell and Loy cannot be underestimated. The film itself (as well as Powell and Loy's pairing) is easy, breezy, full of splendidly snappy, sparkling banter and of course, martinis aplenty.
From our introduction to the illustrious couple, wherein Myrna Loy walks into a ballroom Christmas soiree carrying a stack of presents taller than she can hope to see around or above -- to the outlandish Christmas party the sophisticated pair decide to throw in their delightfully deco NY hotel suite (complete with its very own Christmas tree and Myrna Loy donning a candy cane inspired gown*) -- the movie is undoubtedly shrouded in holiday cheer.
My personal favorite is the scene on Christmas morning, wherein William Powell (having been grazed by a bullet the night before) sits on the couch, childishly firing at balloons and ornaments on the Christmas tree with his newly received air gun, while Myrna Loy (not impressed) thanks him for the new mink coat she sits all wrapped up in, which Powell has unknowingly purchased for her -- it's a lovely scene.
The film itself (as well as Powell and Loy's pairing) single-handedly redefined the onscreen depiction of marriage as an equitable adventure. And after all, what could possibly be a greater gift than watching an onscreen depiction of the daringly even-matched and alarmingly charming companionship of two true partners in crime?
I can't think of a single thing. Well, except perhaps watching The Thin Man over the holidays in the esteemed company of your very own true partner in crime (ahem, that would be you, Mr. Bryan Poyser). Oh and better throw in a string of perfectly shaken martinis too, while we're at it...
Happy holiday skidoo... 1930s style!
*Elizabeth notes: I have watched this movie more than a dozen times and never made the candy-cane connection! Thanks for pointing this out, Kim.
Want to watch? The film is available on DVD, which you can rent locally from Vulcan Video, and can be streamed on Netflix Instant.
[Still via Lasso the Movies]