Holiday Favorites 2012: Elizabeth and 'Meet Me in St. Louis'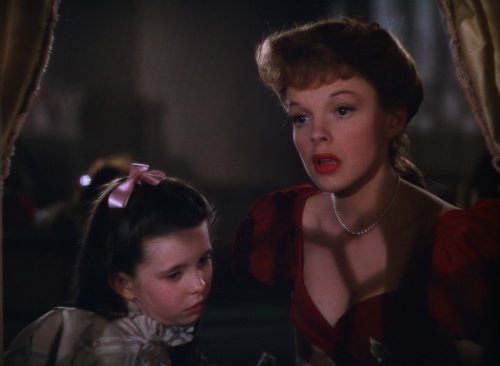 Welcome to Holiday Favorites, a series in which Slackerwood contributors and our friends talk about the movies we watch during the holiday season, holiday-related or otherwise.
I wrote about a few of my favorite holiday classics last year, but neglected to include Meet Me in St. Louis! The 1944 film can be paired with 1949's In the Good Old Summertime for a Judy Garland turn-of-the-century Christmas double feature. These are two of my favorite Garland roles, but Meet Me in St. Louis has an edge because it contains her splendid performance of "Have Yourself a Merry Little Christmas" (as well as "The Trolley Song," yay).
The year is 1903, and the multi-generational Smith family is upper-middle-class, living in their Victorian home and eager for the World's Fair in St. Louis. Esther (a 22-year-old Garland) is in her late teens, pining for her pipe-smoking young neighbor ("The Boy Next Door"). Oldest sister Rose (Lucile Bremer) is a senior in high school, long-distance dating a college man. Brother Lon is about to enter Princeton, and the two youngest daughters Agnes and Tootie (Margaret O'Brien) are in grade school.
The kids all love their fair city, but when dad Alonzo (Leon Ames) gets a job in New York it looks like a big change is ahead. Mom Anna (Mary Astor, one of my favorite underrated actresses, only 11 years older than Bremer) supports her husband, but you can tell she wants to stay put.
While "Have Yourself a Merry Little Christmas" makes sense out of the context of the film, it truly fits in the moment it appears. Esther is assuring her youngest sister Tootie that in New York, "next year all our troubles will be out of sight." Sure it's sentimental, but O'Brien and Garland really sell the moment. It's rare that I can watch it without tears coming to my eyes.
Want to watch? Meet Me in St. Louis is free to watch for Amazon Prime members anytime. TCM will show both this movie and In the Good Old Summertime on Monday, December 24 as part of their holiday programming.
[Image via DVD Beaver]