Our Holiday Favorites: Love Actually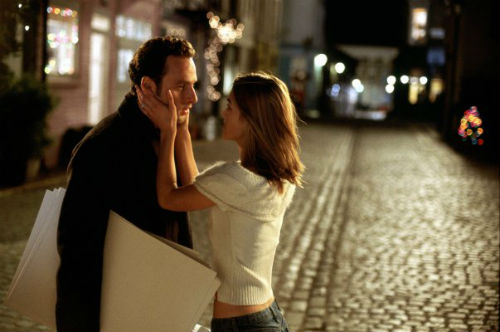 "Before the planes hit the Twin Towers, as far as I know, none of the phone calls from the people on board were messages of hate and revenge -- they were all messages of love. If you look for it, I've got a sneaking suspicion you'll find that love actually is all around."
And therein lies the brilliance of Love Actually, a movie I fell in love with upon first viewing. An introductory voiceover, normally one of the most annoying cinematic tricks, establishes not only the focus of the film but the darker context when many of us needed it. By autumn 2003, we were no longer reeling from the September 11 attacks, but we hadn't yet adjusted to the post-attack realities, and cynicism was rampant.
Using footage of actual arrivals at Heathrow airport in the credits, Love Actually reinforces that message: in paradox of the holiday season and all the stress that goes with it, what matters most.
Writer/director Richard Curtis gained renown for penning another witty love-themed movie, Four Weddings and A Funeral, originally meant for British TV but which ended up becoming an Oscar-nominated theatrical release. (Not to mention he's also one of the Blackadder writers.) Like Four Weddings and A Funeral, Love Actually centers on multiple couples, all connected as family and friends. This time the focus isn't on weddings and funerals, but on expressions and complications of love in many forms -- romantic, filial, friendsship and more.
The only "love" that's missing is a gay couple, something that was cut from the original script due to length. As it is, the film is overstuffed with the best actors from the UK, all watchable, and the connections are obvious (and in fact strengthen the premise). For those who are still enjoying The Walking Dead, Andrew Lincoln has a particularly memorable scene featuring one of most romantic (if improbable) gestures shown on film. There are in fact several improbable moments in Love Actually (including a particularly annoying dance scene), but they're easily forgiven because the rest of the time it's overflowing with powerful little moments everyone can relate to, many as likely to be tinged with regret as with laughter.
It's also got an incredibly strong soundtrack, using a combination of popular holiday songs and others that really underscore the power of the stories. The soundtrack is on my holiday MP3 rotation, including Olivia Olson's energetic cover of "All I Want For Christmas Is You" -- which puts Mariah Carey to shame.
By the time the end credits roll, you can't help but relate to some of the stories. Yes, I keep a box of tissues nearby -- just like I do for It's A Wonderful Life -- but it always makes happy when the credits start back up with more arrival gate scenes.
Want to watch? You have no excuses not to catch this film, which has turned into a holiday classic. The Alamo's Girlie Night is showing Love Actually on select nights this month from 12/6-20, or you can see it at the Paramount on 12/18. It's available widely on DVD and Blu-ray -- if you want to rent it, it's in stock at Vulcan Video (both locations) and other local video stores. It's also available on Amazon streaming.