Movies This Week: October 18-24, 2013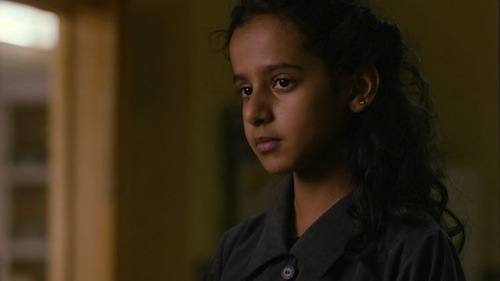 It's a crowded weekend at the movies in Austin. Polari (formerly the Austin Gay and Lesbian International Film Festival) is in full swing at venus across the city until Sunday. If you didn't get a badge for the fest, $10 individual tickets will be available for most screenings (capacity permitting) including PJ Raval's powerhouse doc Before You Know It. Raval will also be hosting a special Austin Film Society presentation of Paris Is Burning in 35mm on Wednesday night at the Marchesa.
The Austin Film Society's "Terror In The Aisles" series continues tonight at the Marchesa and Sunday with a 35mm screening of the 1960 Hammer Horror film The Brides Of Dracula. Essential Cinema's focus on the masters of Japanese cinema will also deliver Kenji Mizoguchi's 1946 film Utamaro And His Five Women at the Marchesa on Thursday in a 35mm print direct from Janus Films.
As always, there's a diverse slate of specialty programming on the books from the team at the Alamo Drafthouse. Sarah Silverman is performing on the comedy lineup at Fun Fun Fun Fest next month, so the festival has teamed up with the Alamo to screen her uproarious stand-up feature Jesus Is Magic tonight at the Ritz. Also at the Ritz this week: Anthony Perkins stars in the 1968 film Pretty Poison (part of this month's "Mixed Nuts" series) screening in 35mm on Monday night, Neil Jordan's 1988 comedy High Spirits gets a Cinema Cocktails booking in 35mm on Tuesday and there's a special presentation of Night Of The Living Dead on Wednesday night featuring a live score from Bird Peterson.
Across the other Drafthouse locations: Alamo Slaughter and Alamo Lakeline have programmed James Whale's classic 1935 horror film The Bride Of Frankenstein on Saturday and Sunday afternoons, Lakeline also has a special Afternoon Tea set up for Saturday afternoon with The Witches (with Anjelica Huston and the final work of puppeteer Jim Henson), and the Village will be serving up Dogfish Head's new "American Beauty" beer for a special screening of The Grateful Dead Movie on Tuesday night.
Local filmmakers Andrew Matthews and Katie Graham earned raves at SXSW this year for their directorial debut Zero Charisma (Jette's review). The film is available now on VOD nationwide, but there will be two local Q&A screenings this week. You can catch cast and crew members on hand at the Alamo Village tonight and at the Alamo Slaughter Lane on Wednesday night. Read Mike's interview with lead actor Sam Eidson for a preview of what you might hear at the Q&A.
Finally, if you missed seeing After Tiller (Caitlin's review) last week at the Violet Crown, it's screening for free on Sunday night at the American Legion Hall (404 Atlanta Street) thanks to Cinema East.
Movies We've Seen
Muscle Shoals - This outstanding music documentary (which played earlier this year at SXSW) examines the studios where the classic "Muscle Shoals Sound" originated. It's been available on VOD for a few weeks, but we're now getting select theatrical screenings in town over the next week. The film is loaded with insightful interviews from music legends like Aretha Franklin, Mick Jagger, Percy Sledge and even Bono. My review ran yesterday and I'd highly encourage you to check this one out. (Violet Crown Cinema)
Wadjda (pictured at top) - Saudi Arabia's first official submission for the Best Foreign Language Film Academy Award is notable for a multitude of reasons. First off, there are no movie theaters in the country (in order to be elgible for the Oscars, screenings had to be set up at foreign embassies inside the country). Secondly, it was directed by a woman in a country where the rights of women are still pretty strictly controlled. Even with all that, you probably want to know if it's any good. Jette says yes -- look for her review this weekend. And with a healthy 98% rating on Rotten Tomatoes, fans of world cinema should not hesitate to check it out. (Regal Arbor, Violet Crown Cinema)
Also Opening In Austin
Carrie - Just in time for Halloween comes another unnecessary horror remake. Kimberly Peirce (Boys Don't Cry) directs this adptation of the Stephen King story that substitutes Chloe Grace Moretz in the title role. Despite the prescence of Julianne Moore as Carrie's mother, this is one I can't bring myself to endure. (wide)
Escape Plan - Sylvester Stallone and Arnold Schwarzenegger still have high enough profiles as action stars to avoid the straight-to-video route, but if they keep making films like this, it's only a matter of time. (wide)
The Fifth Estate - Launching on nearly 1800 screens, it seems unlikely that a large mainstream audience is going to turn out for this hurried WikiLeaks dramatization from director Bill Condon (Dreamgirls, Kinsey). (wide)
The Summit - In August 2008, eighteen people climbed K2, the second-highest mountain on Earth. Eleven of those people died on the mountain and this documentary combines archival footage with recreations from the stories of the survivors. The Summit won a Best Editing award at this year's Sundance Film Festival. (Regal Arbor)