Review: Muscle Shoals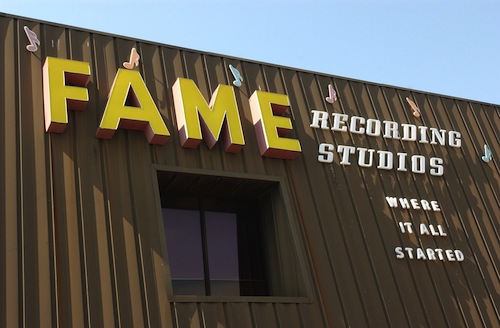 It's been a stellar year for music documentaries. Twenty Feet From Stardom, A Band Called Death and Sound City have all managed to tell important stories and still be crowd-pleasing films. Much like Dave Grohl's warm and friendly portrait of the Sound City studios out in Southern California, the movie Muscle Shoals invites us to take a closer look at a studio where some of the most important recordings of all time have been created.
Rick Hall opened FAME Studios in Muscle Shoals, Alabama in 1960 after establishing a music publishing business. With a life-altering personal tragedy behind him, he focused all of his energy into the studio and truly got hooked by producing local and regional artists. Shortly after Percy Sledge recorded "When A Man Loves A Woman" at FAME in 1966, the floodgates opened and the studio become a destination for Jerry Wexler at Atlantic Records to bring his artists to ensure they'd have hit singles.
Wexler brought down Aretha Franklin to Muscle Shoals early in 1967. He had just signed her after she languished for six years at Columbia Records, saddled with a label that just didn't know what to do with her. By pairing her with the electrifying rhythm section at FAME, her new album I Never Loved A Man (The Way That I Loved You) scored multiple hit singles on the charts and paved the way for more Atlantic artists to travel down to Alabama to incorporate FAME's signature sound into their songs.
A disagreement between Hall and Wexler created a splinter group, as Wexler helped to fund several of Hall's own studio musicians starting their own studio in town called Muscle Shoals Sound. The new digs, launched in late 1969, got a huge boost from the arrival of the Rolling Stones. They arrived and quickly laid down what would become two of their biggest hits: "Brown Sugar" and "Wild Horses." The film doesn't dig too deeply into the second studio, but implies that part of the continued success for outsiders coming down to record is that the area was the seclusion, because local residents really didn't know the artists well enough to bother them during their stay.
Director Greg "Freddy" Camalier sits down for one-on-one interviews with all of the surviving major players, including Rick Hall and his original session musicians who were known as "The Swampers." He cuts an even bigger path when sitting down with musicians to talk about the studios. We get to hear from people who recorded there (Percy Sledge, Aretha Franklin, Mick Jagger, Keith Richards, Clarence Carter and Gregg Allman) and also from some high-profile fans like Bono and Alicia Keys.
In an impressive move for a documentary that is otherwise comprised pretty strictly of "talking head" interviews, Muscle Shoals makes us feel like we're in the region by utilizing gorgeous establishing shots of the serene landscapes and wooded areas. There isn't a ton of archival footage and I honestly couldn't tell whether a few moments were recreated for the film or the filmmakers had access to some serendipitous footage of some of the studio's most pivitol moments. Either way, it's beautifully constructed, thoughtfully edited and a true treasure trove of trivia for music fans.
Muscle Shoals begins a limited engagement at the Violet Crown Cinemas on Friday and is also available now for rental from most cable and digital VOD providers.