Austin at SXSW 2013: Sam Eidson, 'Zero Charisma' (and More)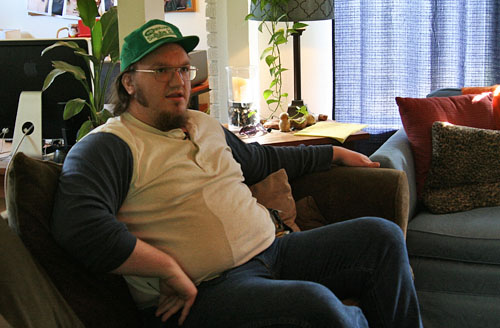 Sam Eidson is a comedic savant who moved to Austin after attending Savannah College of Art & Design. In addition to a hilarious appearance in Emily Hagins' 2011 feature film My Sucky Teen Romance, Eidson has appeared in a number of locally produced shorts, as well as stage productions presented by his collaborative company The Old Murder House Theatre. (Read J.C.'s interview for last year's Murder House production, Jurassic Live!)
Eidson's first lead film role is in the Austin-shot movie Zero Charisma, which is premiering at SXSW on Monday at 7:15 pm at the Rollins Theatre at the Long Center. But you might also see him onscreen during SXSW in Grow Up, Tony Phillips and the short Hell No. I conducted the following interview with him via email over the course of a few days.
Slackerwood: What can you tell us about your role in Zero Charisma?
Sam Eidson: I play a D&D Dungeon Master (we call them Game Masters in the movie for legalities) who finds his whole life turned around when a hipster comes in and takes over his game. He's a firecracker who's not afraid to get in your face.
Playing the lead in this, was the experience different or more demanding? Would you want more lead roles?
Eidson: Way more demanding, I'm in practically every scene so if I wasn't on my game the movie wouldn't work. I loved taking the lead, it's fun to see people take chances on guys who aren't hunky in lead roles.
What were your impressions of the rest of the cast?
Eidson: Loved everybody, especially me and Garrett [Garrett Graham], we played off each other al ot. We tried to challenge and outdo each other.
Have you seen the finished film?
Eidson: Haven't seen it yet -- only bits and pieces, excited to see it with an audience of film lovers!
How did you get involved in the film?
Eidson: Katie and Andrew (directors Katie Graham and Andrew Matthews) saw me in a local film here in Austin and they had me play Scott for the trailer on Indiegogo to get money for the feature and they liked me enough to stick around for the real thing.
Was that local film My Sucky Teen Romance?
Eidson: Nope, it was a film called The Man From Orlando directed by Craig Elrod.
Is it the biggest production you've been involved in?
Eidson: I've never been in a lead role on this big of a budget movie.
You seem to primarily work in comedy. Are you interested in more dramatic roles?
Eidson: I like all types of roles. I tend to veer towards comedic stuff but as you'll see in this movie, it's not all laughs and giggles for Scott.
Are you working on any other upcoming projects?
Eidson: Acting in various features and commercials around Austin. Planning for an new Old Murder House project in the summer, going to announce soon.
I can't wait to hear about the next Old Murder House project. After BttF, Aliens and Jurassic Park, I was thinking you've got to do Wrath of Khan!
Eidson: Wrath of Khan would be awesome! Or Goofy Movie. Kinda the same movie really.
Do you play D&D? If you did, what race and class would you roll?
Eidson: I don't, I mostly play board games. But I'd totally be an Half-Orc. I like the brutish outcasts. Maybe a Wizard class, can orcs be wizards? Fuck that if they can't.
Yeah, Orcs can be wizards!
Eidson: My name would be like Jasco Sweetleaf or something.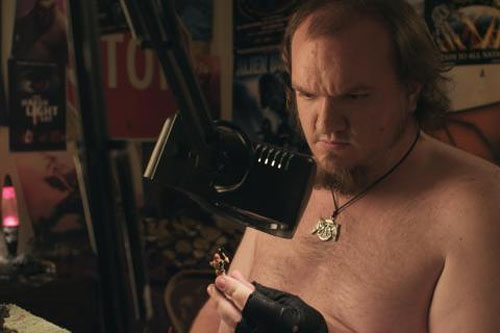 I just saw you in Hell No! What else will you be appearing in at this year's SXSW?
Eidson: Just Hell No, Zero Charisma and a cameo in Emily Hagins' film (Grow Up Tony Phillips).
Looking forward to anything at SXSW? (that you're not in)?
Eidson: I wanna see a ton of stuff: Upstream Color, Pit Stop, Scenic Route, and that one where people are talking to each other about life.
Have any recommendations for places to eat during SXSW?
Eidson: Taco Bell has just put out their new Cool Ranch Doritos Locos Taco.
OMG I'm going to have to try one of those. I let myself have one KFC double-down. One per lifetime. You've got to let yourself live a little.
Eidson: Yeah, they are a real treat.
Thanks, Sam! Zero Charisma also screens on Wednesday at 7 pm at the Rollins Theatre, and on Friday at 11 am at the Topfer Theatre at ZACH.
[Photo credit: "Sam Eidson during Zero Charisma set visit" by J. Kernion, all rights reserved.]