Ready, Set, Fund: Air Sex, Gay Retirees and Girlie Pop Culture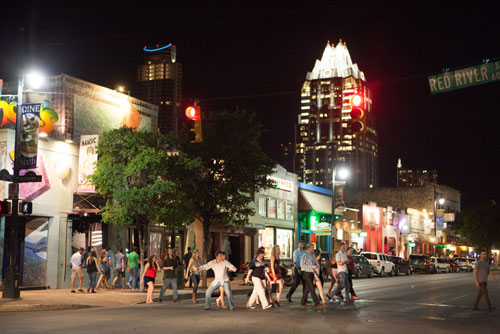 Ready, Set, Fund is a column about crowdfunding and related fundraising endeavors for Austin and Texas independent film projects.
Two local movies that were well received at their SXSW 2013 premieres are now crowdfunding for distribution: The Bounceback and Before You Know It. Local filmmaker Bryan Poyser has a Kickstarter funding campaign through Sunday, November 17, for his romantic comedy (with air sex!) The Bounceback -- check out Don's review as well as Elizabeth's interview with Poyser.
PJ Raval -- director of photography for The Bounceback -- is also seeking funding for his feature-length documentary Before You Know It through October 30. This insightful and thought-provoking film reveals the discrimination, neglect and exclusion faced by lesbian, gay and bisexual senior citizens. Raval tells the story through several inspirational individuals who have found the strength to form communities where they and others can be comfortable and accepted.
Check out the pitch video for the Before You Know It campaign, which includes some of the film's subjects, after the jump.
A new film festival aimed at "girlie pop culture," Forever Fest, is funding on Kickstarter through October 25 on Kickstarter. Alamo Drafthouse lead programmer and Girlie Night hostess Sarah Pitre and Fons PR co-founder Brandy Fons are the organizers so you can expect lots of mimosas, dancing, and John Hughes films at this female-centric fest to be held November 1-3 in downtown Austin.
Forever Fest events include a Young Adult Book Panel with the Fug Girls, author Megan McCafferty and writer Kirsten Smith (10 Things I Hate About You, Legally Blonde), and a 80s Dance Party in honor of the screening of Sixteen Candles. Cast members of the film Liane Curtis (Randy) and Debbie Pollack (Marlene "Lumberjack," aka "Sexy American Girlfriend") will be in attendance for autograph and photo opportunities.
Find out more in Sarah and Brandy's pitch video below -- complete with bubbly!
Other Austin and Texas film-related projects funding this month:
Have a project that you would like to be considered for an upcoming "Ready, Set, Fund," feature about crowdfunding and related fundraising endeavors for Austin and Texas independent film projects? Contact us with subject line "Ready, Set, Fund" if you've got a film fundraising project going on you'd like us to know about.