Austin at SXSW 2013: Bryan Poyser, 'The Bounceback'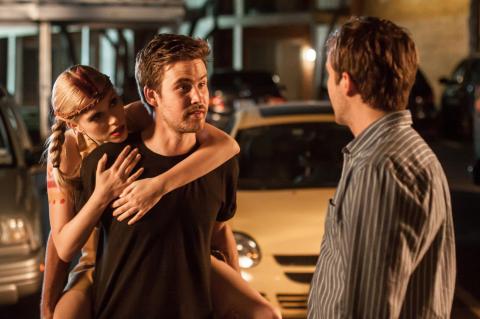 Bryan Poyser isn't exactly a new face on the Austin film scene, but we realized that we hadn't yet interviewed him on this site (although he has been mentioned in a Holiday Favorites post)! Thankfully we were able to rectify this, as he answered my questions via email about his latest film, The Bounceback (pictured at top). This comedy follows two former couples as they fight (and make up?) amongst Austin's nightlife. The film will have its world premiere at SXSW on Saturday, March 9 at 2 pm (screening info).
Poyser's other film work includes Dear Pillow and Lovers of Hate. He's been nominated for two Independent Spirit Awards for these films. The writer/director formerly worked as Director of Artist Services at the Austin Film Society, and now serves on the AFS Board of Directors.
Slackerwood: How are you feeling about the upcoming premiere of The Bounceback (at the Paramount during SXSW)?
Bryan Poyser: I really can't wait. I know I'm gonna be gut-wrenchingly nervous right before the show, but I'm so happy that so many of our out-of-town cast members are going to be there for it. They're all really proud of the movie, as are the folks behind the camera, and so I think we're all just really excited to finally share it with an audience.
What was the casting process like?
Poyser: The casting process was really the longest, and at times most frustrating, part of the process. It was over a year from the time when we all got the script where we wanted it to be -- myself, the co-screenwriters, the producers -- and started sending it out to agencies, to when we actually started rolling camera on the movie.
A big part of that is because it really is an ensemble film -- there are essentially six leads, and that's a lot of people to mix and match. At one point we had all six of the leads and it looked like we were going to shoot in February of 2012, but then one person dropped out, then another two, and we ended up having to push the movie 'til May while we scrambled to find the right people.
But, the cast that we ended up with was the exact cast we needed all along. When you're making movies, eventually the Power of Serendipity takes over and setbacks turn into great leaps forward.
How did you choose locations for The Bounceback? Did you mainly stick to the downtown Austin area?
Poyser: I only wanted to shoot in places that we could actually identify and name in the movie. So, if we were gonna shoot in a popular Mexican restaurant, the characters were gonna call it El Azteca; if the characters went to a honky-tonk, they were going to the Broken Spoke, etc. We weren't going to make up any fake places. I wanted to keep it as authentic as possible, for the benefit of Austin audiences for sure, but also for people who don't live here.
I think the city of Austin has grown in the popular imagination so much in the last 20 years, since Slacker, basically, that people are eager to see a genuine representation of its unique culture, in the way they want a movie set in New York to really portray New York, or a movie set in San Francisco to show off something about that city's singular character.
Were there any unexpected issues that popped up during filming? How did you handle them?
Poyser: We spend nearly a week shooting on Sixth Street. We were doing nights, so we'd shoot 'til dawn and see the whole lifecycle. Frankly, it was more than a little disgusting. Lots of drunken brawls, arrests, stumbling, littering, puking, public urinating. And that was just the crew. Ha! But seriously, it was a real challenge to stay focused on the work we were trying to do as all this chaos surrounded us. But, that chaos is a big part of the movie and was necessary to include.
However, I can say that any romantic notions I have of our lauded downtown entertainment district have been completely erased. Nowadays, I pretty much only go down there for SXSW or to see movies at the [Alamo Drafthouse] Ritz. Although that might also just be because I'm old.
What are your thoughts about making movies in Austin/Texas?
Poyser: I've been lucky to be part of the film community here for nearly 20 years. I came here right after Richard Linklater and Robert Rodriguez burst on to the national scene, so even back then, it felt like I was part of something, even as a lowly UT undergrad making my dinky little student films. And, even though still no Austin filmmaker has "popped" as big as those guys did, an exceptional community of independent filmmakers has developed here, a community that the world pays more and more attention to every year.
It's undeniable that we've got something special here, with multiple Austin filmmakers showing their work in the top film festivals in the world every year. Just in the last couple of years, you had Jeff Nichols show two films at Cannes, Heather Courtney win an Independent Spirit Award, Andrew Bujalski screen his newest at Sundance and Berlin. And, you've got filmmakers like Terrence Malick and David Gordon Green using Austin as a home base to do their thing.
But the great thing about all this activity is that it's still a small, supportive community of people who like to roll up their sleeves to help -- an editor on one movie is a director on another, an actor in one movie is a producer on another, and everyone goes to everyone's rough cut screenings to give feedback. The only thing that might upset the balance is if any one of us actually starts making money on our movies. Fortunately that hasn't happened yet. Or should that be "unfortunately"?
Where do you love to take a break during SXSW? Any favorite downtown spots for food or drink to recommend?
Poyser: Two words: Thai Passion. It's on W. 7th Street between Colorado and Congress, not even a block away from the Paramount. Great Thai food. Cheap, open late, and never too crowded to get a table. I eat there almost once a day during the festival.
[Publicity still by Ryan Green]