Fantastic Fest 2013: News Roundup, Austin Ties and a Cry for Help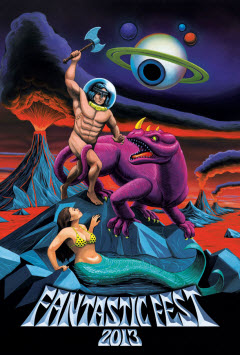 Fantastic Fest is announcing all kinds of movies and events practically daily at this point. I leave my computer to get a sandwich and return to find out that Keanu Reeves is debating Tim League. Or that Errol Morris will be there, receiving an award and screening his latest film. Today I got a list of red-carpet events, giving me the chance to snap photos of celebrities from Danny Trejo to Elijah Wood.
First of all, the "whole" lineup of shorts and features has been announced, although I would not be surprised to see a few more announcements pop up in the next week. You might already have heard the news that Terry Gilliam's film The Zero Theorem will close the festival (please, let it be better than the other two Gilliam movies I've seen at Fantastic Fest), and that Metallica will be in Austin for the documentary Metallica Through the Never 3D, directed by Nimrod Antal, who also directed the Predators reboot Robert Rodriguez produced, and who appears in Machete (one of the bodyguards who shouldn't have tangled with the "gardener.")
I found a few Austin and Texas connections in the features and shorts, besides Machete Kills, the fest's opening-night film:
But wait, there's more. Fantastic Fest also announced its "signature programming," which includes an evening with some veteran stuntmen -- Gary Kent, Bob Ivy, Chuck Bail, John "Bud" Cardos and Bobby Sargent --some of whom live in the Austin area. Doug Benson is back to play the Leonard Maltin game with attendees at an event starting at 4:20 pm (natch), and to screen The Rundown. Plus, there's Fantastic Feud and Fantastic Debates and lots of karaoke.
As if that wasn't quite enough, Fantastic Fest also announced that filmmaker Errol Morris would attend the fest as an inductee into the "Badass Hall of Fame" (Badass Digest is published by Alamo Drafthouse). Morris will be screening his new documentary The Unknown Known. To quote Devin Faraci's Fantastic Fest news post: "You might think this film is a departure for Fantastic Fest, as it's a documentary about the life of Donald Rumsfeld, but the Festival has always held a soft spot for hellspawned monsters."
And then -- stay with me here -- there are the bumpers, those delightful short shorts that play before every screening at Fantastic Fest. The bumper contest ends tonight at 11:59 pm CST. Filmmakers are already sharing their entries in the contest for you to watch and vote on. I'll try to highlight some of them soon -- Austin is definitely represented, as is at least one more Slackerwood contributor. (Are you all turning into actors and filmmakers? It strikes me there's a whole feature to be had on Slackerwood contributors involved in films ... not today.)
Finally, I need your help. Badly. I am writing Slackerwood's annual Venue Guide for Fantastic Fest, which is limited to Alamo Drafthouse Lakeline this year. The problem: I have never been to Alamo Lakeline. I've been out of town for the past month or so, and I doubt I will have time to get in there and look around before the fest starts. (Oh yes, I will be back in Austin for Fantastic Fest. That's important.)
So please send me your impressions of the theater, either via Slackerwood's contact form or in the comments below. Here are the kinds of things I need to know:
Things you really like about the theater (pros)
Drawbacks you've encountered (cons)
Is there wireless, and how well has it worked for you?
Things you'd recommend on the menu, both for the theater itself and the adjoining bar -- please don't turn this into an extended criticism of the Drafthouse menu, though. I just want to point people at a few healthful and/or tasty options.
Any pro tips: Best (or worst) places to sit, best theater, other tips and tricks.
Debbie is working on an excellent Dining Guide for Fantastic Fest this year, which I think most of us who don't live in the area will need, so we're covered on that front. (She's even investigated the nearby HEB and found some surprisingly cool stuff.) But anything else related to the theater itself, please help me out.