Dallas IFF 2013: Sex Meets Humor with 'S/ash' and 'The Bounceback'
Programming a short film before a feature can be a hit or miss at times, and I enjoy selections that complement one another. A solid well-crafted short can warm up an audience and set the tone for the feature presentation ... as demonstrated at the Dallas International Film Festival this week with a pair of Austin films.
The short film S/ash by Austin filmmaker Clay Liford -- pictured above with executive producer Farah White and Ashland Viscosi -- is the best foreplay that I could imagine to experience before The Bounceback, the latest movie from writer/director Bryan Poyser and co-writers Steven Walters and David DeGrow Shotwell. Neither film is for the prudish, but if you enjoy titillating humor and some impropriety then you're in for a special treat.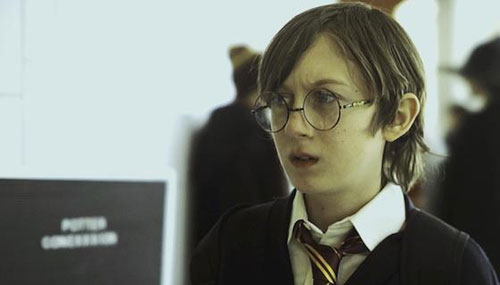 The charm of the short film S/ash is that the main character Sam (Arthur Dale) is an introverted 13-year-old boy who finds an outlet for expression through writing slash fiction (fan fiction that focuses on attractions between same-sex fictional characters). Never mind that he uses his sister's sordid-filled diary as his source content -- his twists on the Harry Potter and Star Trek stories are wickedly funny.
Even more amusing is that Sam's writing is so well-done that he has online fans as well as his sister Edith (Burge) and her friends. What happens when he goes to a slash panel is something best left to discover for yourself, but it's hysterically funny.
In addition to lead actor Dale (Hellion, Grow Up Tony Phillips) -- pictured above -- and Dora Madison Burge (Friday Night Lights), the S/ash cast includes several Austinites including filmmaker Emily Hagins (Grow Up Tony Phillips), Nate Rubin (Wuss), and Sam Eidson (Zero Charisma) as "Dumbledore." Former Dallasite Farah White, who plays Sam's mom, now resides in Los Angeles -- she also appears with Burge in the San Antonio family drama Champion that premiered at Dallas IFF.
The Bounceback co-writers Poyser and Walters were joined on the Dallas IFF red carpet by supporting actress Kim LeBlanc (whose day job is with the Texas Film Commission) and producers Megan Gilbride and Trace Sheehan (pictured above).
In this romantic comedy about breaking up, the four lead characters share crudely intimate details about their lovers, with the most graphic descriptions shared by the women. I suspect I wasn't the only woman in the theater thinking, "Oh my goodness -- I've had that same conversation with a girlfriend." The writing is raw and realistic for anyone who has struggled through jobs and life changes in their twenties.
The filmmakers also successfully capture the truly sordid spirit of Air Sex World Championship as experienced in all its glory at the Alamo Drafthouse. The set design for the apartment where Stan (Michael Stahl-David) crashes with his best buddy Jeff (Zach Cregger) is a little too well done, as it is freakishly similar to some college dropouts I've had the misfortune to enter. No working toilet, hand soap or toilet paper? -- check!
The Bounceback was filmed in Austin in various locations including The Dog and Duck Pub, El Azteca, Justine's Brasserie and The Broken Spoke. Find out more about The Bounceback in Don's SXSW review as well as Elizabeth's interview with Bryan Poyser.
The Bounceback and S/ash share several qualities of great film -- clever and well-paced writing, well-executed set design, and strong casts well directed by their respective directors. I highly recommend seeing both films soon if you need some great laughs.
[Photo credits: Both photos of S/lash and The Bounceback cast and crew by Lindsay Jones, courtesy of Dallas IFF.]