Movies This Week: July 26 - August 1, 2013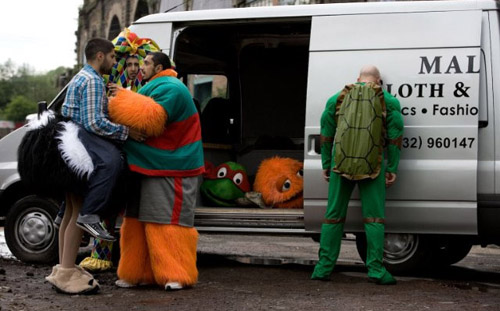 This week is one of intriguing new releases. As a perpetual Pedro Almodóvar groupie, I can't help saying I'm so excited about I'm So Excited. I'm even more excited about Fruitvale Station; I've never met a gritty, thought-provoking urban drama about poverty and racism I didn't like. The To Do List also has my attention, if only because the hilariously deadpan Aubrey Plaza tops my current list of fantasy friends with benefits.
No less intriguing are the special screenings. At the Marchesa Hall & Theatre, the Austin Film Society presents three movies from Austin's own Drafthouse Films. The terrorism comedy (yes, you read that right) Four Lions (pictured above) screens on Friday, the dark Australian classic Wake in Fright screens on Sunday, and The Act of Killing -- a startlingly imaginative statement against genocide -- screens on Wednesday.
Hitchcock fans, this is your week: the Paramount Summer Classic Film Series offers four nights (Monday through Thursday) of Hitchcockian double features. Among the eight classics are The Man Who Knew Too Much, Rear Window, Dial M for Murder and, of course, Psycho, so every night promises to be a ... wait for it ... good evening. Refer to the Paramount calendar for details.
Does an annual film event become a tradition after three years? If so, the Alamo Drafthouse's Save the Bottle Rocket Motel screening is now a tradition. Back for its third year at the Day's Inn in Hillsboro on Saturday, the Rolling Roadshow presentation of Wes Anderson's classic comedy Bottle Rocket features the usual fun and festivities. Show up early and hang out in the famous room 212, stuff yourself with tamales and tacos from North of the Border and support local starving artists at a sale of art inspired by the film.
Movies We've Seen
Fruitvale Station -- Winner of a Grand Jury Prize and Audience Award at the 2013 Sundance Film Festival, this drama is based on the true story of Bay Area resident Oscar Grant as he crosses paths with friends and family on the last day of 2008, culminating in a tragic encounter with police. Debbie's review highlight's the film's realism: "The handheld camera work by Fruitvale Station cinematographer Rachel Morrison lends a cinema vérité style to the film as we observe Grant move through his day and through the homes of his loved ones." (wide)
I'm So Excited -- Pedro Almodóvar's latest effort follows the passengers and crew of a possibly doomed flight to Mexico City who deal with the situation by having as much fun as possible. In her review, Marcie calls I'm So Excited a very funny film with "a lot of heart... the closer these characters get to the end of the flight, the more humane they become." (Arbor, Violet Crown)
The To Do List -- This raunchy sex comedy stars Parks and Recreation's Aubrey Plaza as a young woman who makes a list of sexual exploits to accomplish before going to college. Jette's a fan: "Apart from a few unnecessarily gross moments, this is a charming and fun comedy with -- hooray -- strong female characters." Look for her review this weekend. (Barton Creek Square, Cinemark Southpark Meadows, Gateway, Tinseltown North, Tinseltown South)
The Wolverine -- In this week's designated blockbuster, Wolverine goes to Japan to face his ultimate nemesis in a life-or-death battle that will change him forever. Mike gives the film a strong review, saying "This is The Wolverine we've been waiting for, mostly. Jackman is back and buffer than ever in a film that explores the character's personal history and most difficult struggle when he is rendered powerless." (wide)
Other Movies Opening in Austin
D-Day -- This Bollywood thriller follows a team of experts attempting to arrest the most wanted man in India. (Tinseltown South)
The Hunt -- In this Danish drama, a little girl's innocent lie shatters a lonely teacher's life. (Arbor)
V/H/S/2 -- Two detectives find a grisly collection of VHS tapes in this found-footage horror film about the search for a missing student. (Alamo Slaughter Lane)