Review: I'm So Excited!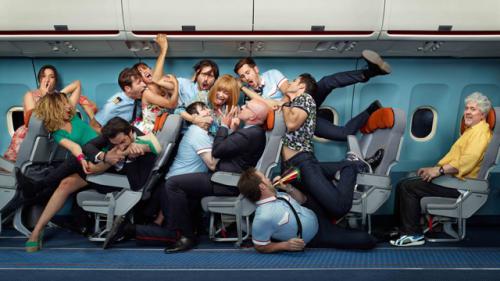 The title of the film alone had me from the get go. I first discovered Pedro Almodóvar when I was in high school -- by accident. Back in the days of Blockbuster rentals, 18-year-old me decided that I was done with the typical goofball comedies and romcoms; I was ready for films of "substance." Of course I wasn't quite sure what I meant by that, but I decided the best way would be to look for films with actors I liked. I then stumbled into the Foreign Film section and spotted a glorious cover of Gael García Bernal dressed as a woman. 'A Film by Almodóvar' read the top of the DVD case, and I have followed those four words ever since that rental.
A friend and I once discussed how Almodóvar has a knack for making films that seem unrealistic, yet you can't help but believe them because they are so well done. This is exactly how I'm So Excited! (Los amantes pasajeros) felt to me: slightly unrealistic, but engaging the entire time.
It's hard to say who the star of the film is because it features the filmmaker's typical ensemble cast. We meet the three zany flight crew members (led by the always hilarious Javier Cámara of Bad Education and Talk To Her), the pilots, and a handful of eccentric passengers. We get the sense that something is wrong, and our hesitation is confirmed when Bruna (Lola Dueñas), a self-proclaimed psychic traveling on board, tells the flight crew that something big is going to happen to everyone on the flight. Whether or not it is impending doom is to be determined, but everyone on board decides to cut loose anyway with drugs and alcohol. Because, if you're going to die, why not live it up?
It's at this point in the story that the film becomes Breakfast Club-esque and we start to learn the backgrounds of several characters, particularly all of the travelers in first class. We learn about the neurotic ex-adult film star (Cecilia Roth), the hit man, the retired actor, and the newlywed couple. Almodóvar utilizes this group beautifully, giving us all we need to know about the characters but never overindulging; he reveals just enough to push the story forward. There are also some brief cameos by veteran favorites Penélope Cruz and Antonio Banderas, although neither has much screen time. It was a nice change of scenery to see Almodóvar employ his other, not-as-well-known cast.
Overall, the film has a lot of heart. The closer these characters get to the end of the flight, the more humane they become. It really makes you think about the people you see in passing or have sat next to on a flight, and how we never think about getting to actually know or talk with them. The story never gets cheesy though, as Almodóvar seems very aware of keeping the story light. This can be seen in moments such as the flight crew's lip-sync performance to The Pointer Sisters' "I'm So Excited" (which you might remember from the trailer).
If you have never seen a film by Almodóvar, I highly recommend checking out some of his other work first before giving this one a shot. Not only will it prepare you for watching a film of this style, but hopefully you will also see what I'm talking about with the "unrealistic yet beautifully done" elements. This also seems to be his latest comedy in a few years, which I am incredibly happy to see him tackle once again. This film is a zany, quirky story that will keep you laughing out loud the entire time; I know I certainly was.