Movies This Week: July 12-18, 2013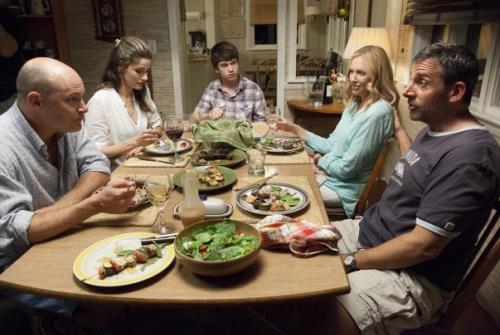 [Editor's note: Please welcome our newest contributor to Slackerwood, Matt Shiverdecker.]
There's an incredibly diverse slate of repertory films in town over the next week, starting with the continuation of the Traveling Circus series from the Austin Film Society. You'll want to head to the Marchesa for Max Ophuls' Lola Montes, a gorgeous Cinemascope spectacle bursting with colors that will leap off the screen in 35mm, tonight and Sunday night (Elizabeth's preview). For those of you who recently watched HBO's Love, Marilyn documentary, you won't want to miss out on Tuesday night's Essential Cinema selection of The Prince And The Showgirl, also screening at the Marchesa in 35mm.
The Paramount's Summer Film Series continues to serve up an eclectic batch of films over the next week including Wim Wenders' Wings Of Desire and a digital screening of Truffaut's new wave classic The 400 Blows at the Stateside, both happening tonight. Also on deck, an Audrey Hepburn double feature Saturday and Sunday with Breakfast At Tiffany's and Roman Holiday. If that's not enough for you, they have a "Swingin' Britons of the 1960's" theme Tuesday and Wednesday nights with Casino Royale and What's New Pussycat, and the lesser-known Pulp and The Ipcress File on Thursday. All Paramount screenings are in glorious 35mm.
The Alamo's Beasts Vs. Bots series brings you multiple options this weekend at the Ritz, including the 1955 creature feature It Came From Beneath The Sea on Saturday and Sunday afternoon, a 35mm screening of Godzilla Vs. King Ghidorah on Sunday afternoon and late night Monday and even a rare 35mm screening of the animated Transformers: The Movie from 1986 on Sunday night. If you're looking for a Ritz experience with decidely less monster action, you may want to have a drink or two at Sunday's Cinema Cocktails booking of Billy Wilder's The Apartment (which will be presented in a new digital restoration).
Also at the Ritz, Girlie Night has secured a 35mm print of Troop Beverly Hills starring Shelley Long, Craig T. Nelson and a preteen Jenny Lewis as their daughter, long before she became the frontwoman of Rilo Kiley, on Tuesday night.
That already gives you plenty to consider in area theaters this week, but several new releases are worth your attention as well.
Movies We've Seen
Grown Ups 2 - Our resident Adam Sandler film expert, Don, was unable to review Grown Ups 2. Instead, check back this weekend for an open letter from a supporter of Texas State Senator Dan Patrick, claiming the politician appears briefly in the film. The letter's author has this to say: "Never in my life have I seen such a shameful display of hedonism on movie screen...The characters' cursing pierced my eardrums like repeated jabs from Satan's pitchfork." (wide)
Pacific Rim - Guillermo de Toro (Pan's Labyrinth, Hellboy) has crafted a big-budget apocalyptic creature feature that will be playing on the hour every hour for weeks in a variety of formats. Whether you choose 2D, 3D or IMAX 3D (at the Bob Bullock in 70mm), Jette says, "It's unquestionably quite a spectacle, which I admit distracted me from the cardboard characters and ridiculous plot elements." Look for her review this weekend. (wide)
The Way, Way Back - Fox Searchlight is clearly pinning their hopes on this indie comedy to break out this summer. Their ads, after all, are touting that they're the studio that brought you Little Miss Sunshine. The presence of Steve Carell in a lead role here is undoubtedly part of them wanting to tie this film to that surprise hit. In his review, Don says that the film is "smartly funny," but "too safe and derivative to be anything beyond a pleasant diversion from the summer heat." (Arbor, Violet Crown)
What Maisie Knew - I've been a fan of Scott McGehee and David Siegel since their stunning black and white thriller Suture back in 1993. The directorial team return with an unlikely modernized adapatation of a Henry James novel from 1892. Debbie caught the family drama with Julianne Moore and Steve Coogan at a recent AFS sneak preview and praises the direction, cinematography and casting of the film, calling it "an important and valuable film for adults." (Arbor)