Review: What Maisie Knew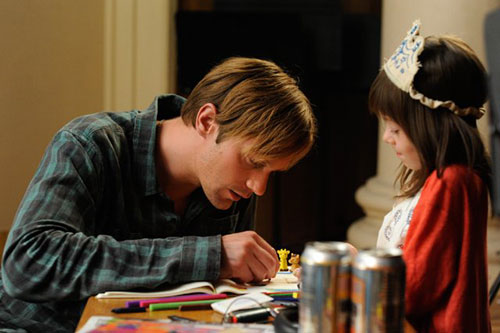 Films that rely on kids as central characters may be off-putting to many adult viewers. However, last year's multiple award nominee Beasts of the Southern Wild proved that success can be found with an engaging story and talented cast and crew. The directing team of Scott McGehee and David Siegel have taken on that same challenge with the drama What Maisie Knew, which opens in Austin today. The screenplay, penned by Nancy Doyne and Carroll Cartwright, is based on the 1897 novel by Henry James, which focuses on a young girl impacted by her parents' irresponsible actions and bitter divorce.
With quite a bit of modernization, the story of Maisie is quite relevant to the current state of family issues. Maisie (Onata Aprile) is caught between her mother Susanne (Julianne Moore), a rock star who's obviously past her heyday, and her father Beale (Steve Coogan), an art dealer who spends more time abroad then at home with his family. Most of the parental responsibilities seem to fall to Maisie's nanny Margo (Joanna Vanderham), who tries to shield Maisie at times from the bitter fights between Susanne and Beale.
Susanne seems most interested in escaping through partying and alcohol and seeking revenge against Beale, and she has little regard for the effect this has on Maisie. Meanwhile Beale and Margo are wed, and they receive primary custody of Maisie. In an attempt to demonstrate to the court that she can be stable enough to gain custody of her daughter, Susanne marries bartender Lincoln (Alexander Skarsgard), who has no idea how to handle a six-year-old girl. Maisie and Lincoln develop a close relationship, however, evoking jealousy in Susanne.
The casting of What Maisie Knew is extremely well done, with an ensemble cast of talented actors that play understatedly yet superbly off the central star. Moore and Coogan are excellently restrained when needed in order to support the dynamic story around Aprile. Although Vanderham has the least amount of screen time, her portrayal of a young woman torn between a child that she truly cares for and not wanting to come between the parents is quite believable. The chemistry between Skarsgard and Aprile is what really shines through What Maisie Knew, and most of the movie's lighter moments come from play between Lincoln and Maisie when he has to care for her.
The direction and cinematography of What Maisie Knew are quite effective, with close shots throughout much of the film truly giving viewers the sense that we are perceiving the world as Maisie sees it. The score by Nick Urata (Little Miss Sunshine) sets the tone quite well for this story, as does the production and art design.
The focal point for much of What Maisie Knew is on and around young star Aprile, which is quite a gamble. I was concerned that this film would feature a precocious child in an overly sentimental story with a stereotypical Hollywood storybook ending. Instead I found myself enthralled and empathetic to the authentic tale of a child who craves love and nurturing, even if those needs aren't met by her biological parents. Maisie's story doesn't quite have a perfect ending, but its final act does bring hope to this deserving young girl.
I highly recommend seeing What Maisie Knew, as it is an important and valuable film for adults. First, because it is one of the rare movies that features a female lead. Aprile brings much naturalism to her role, and I look forward to seeing her future performances. More importantly, What Maisie Knew should be watched by any parents experiencing discord to recognize how their personal interactions can impact a child during their formative years.