Movies This Week: June 28 - July 4, 2013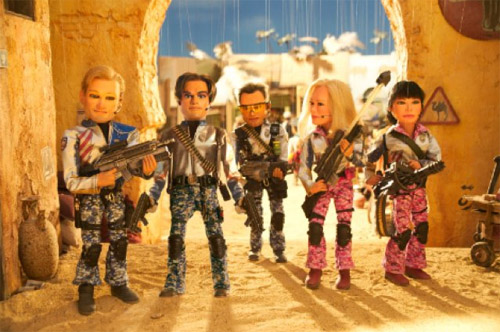 Our friends at Drafthouse Films bring us this week's most promising new release, an indie documentary about a groundbreaking but overlooked band with an unmarketable name. Punk and Seventies music fans shouldn't miss A Band Called Death (really, not such a great name), a film in the vein of Searching for Sugar Man.
The Independence Day holiday week is a slow one for special screenings. But martial-arts film fans might find the Austin Film Society's Old School Kung Fu Weekend intriguing, especially because the five-film lineup is top secret. If you're an adventurous moviegoer, check out the screenings on Friday and Saturday night at the Marchesa Hall & Theatre to see what surprises special guest programmer Dan Halsted (of Portland's Kung Fu Theater) has in store.
Film noir fans should head for the Paramount and Stateside on Tuesday and Wednesday for double-feature screenings of classics from three decades. Humphrey Bogart and Elliott Gould play two very different Philip Marlowes in The Big Sleep (1946) and The Long Goodbye (1973) at the Paramount. The Stateside presents two Eighties hallmarks of the genre, Body Heat (1981) and the inimitable Austin classic Blood Simple (1984).
Those who are not easily offended -- totally unoffendable, really -- will enjoy a July 4 screening of Trey Parker and Matt Stone's patriotic masterpiece Team America: World Police (pictured above). The Alamo quote-along event will be a fun'n'festive occasion with American flags for everyone, streamers, balloons and subtitles, so you can yell out your favorite lines from this heartwarming family film that celebrates the American spirit. (Alas, the Drafthouse is showing the Disney-esque R-rated version, not the über-patriotic unrated cut.) Remember: If you don't see this film, the terrorists have already won.
Movies We've Seen
A Band Called Death -- This documentary profiles the 1970s punk band Death, a trio of brothers who found popularity decades after the group disbanded. Debbie enjoyed the film, saying in her review that "despite noticeable comparisons to many recently released top-notch music documentaries ... A Band Called Death brings to light such a unique tale of loss and discovery that it is worth viewing." (Alamo Village)
The Heat -- In this crime caper, an uptight FBI special agent and a bad-tempered Boston cop join forces to take down a drug lord. Sparks fly because neither woman has worked with a partner -- or had a friend. Elizabeth's a fan of this unusual twist on a well-worn story, calling The Heat "a refreshing addition to the tired buddy-cop comedy genre; these two female leads had me laughing so hard I had tears in my eyes." Look for her review this weekend. (wide)
Somm -- In this documentary destined to find a narrow but sophisticated audience, four sommeliers (for the uncultured: wine experts) attempt to pass the prestigious and mind-bogglingly difficult Master Sommelier exam. In her review, Jette calls it "a nice light documentary for wine lovers and newbies alike."(Violet Crown)
White House Down -- This actioner stars Channing Tatum, probably shirtless at some point, as a Capitol policemen who must save his young daughter and the president from a paramilitary group while touring the White House. J.C. says, "White House Down might be the most pleasant surprise this summer. What seemed like would be a dumb movie is way smarter and much better than I gave it credit for based on trailers." Look for his review this weekend. (wide)
Other Movies Opening in Austin
Dirty Wars -- Investigative journalist Jeremy Scahill pursues the hidden truth behind America's covert wars in this documentary. (Violet Crown)
A Hijacking -- In this Danish thriller, the Somali pirates hijack a Danish cargo ship. (Arbor)
Raanjhanaa -- This Bollywood romance is the story of a small-town boy who must break through the class divide to win the heart of his childhood sweetheart. (Tinseltown South)