Review: A Band Called Death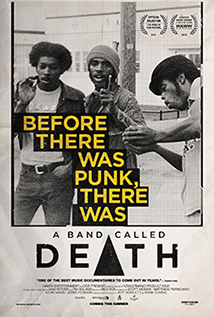 The playlist of music documentaries this year has been overwhelming yet welcome to audiophiles around the world. Earlier this year, Drafthouse Films picked up A Band Called Death, which opens Friday at the Alamo Drafthouse Village. This movie -- also currently available for viewing on iTunes, Amazon Instant Video and VOD outlets -- sheds light on a remarkable story fit for the annals of rock-and-roll history.
A Detroit band before its time, Death was made up of three of the Hackney brothers -- Dannis, David, and Bobby -- recording punk music in the early Seventies when others black musicians around them were deep into the Motown sound. The band played a few shows and recorded a single but were unable to interest record companies due to their punk sound and band name. Brother David had been inspired by the tragic death of their father to name the band Death, and was therefore unwilling to change the band's name.
The band and their music would have been lost had it not been for the discovery over 30 years later by a younger generation of audiophiles and punk fans craving rare music and historic punk. That led to the resurgence of Death and the release of master tapes that David had prophetically stated needed to be saved.
A Band Called Death features interviews with brothers Bobby and Dannis, as we eventually learn that David -- an alcoholic and prolific smoker -- passed away from lung cancer. Bobby and Dannis still perform in a reggae band they formed in Burlington, Vermont.
The cinematography of Mark Christopher Covino along with his co-direction with Jeff Howlett balances archival images with present-day interviews in a style reminiscent of this year's earlier music documentaries Muscle Shoals and Sound City.
The soundtrack and score for A Band Called Death are surprisingly understated for a "punk" documentary and should not dissuade non-punk enthusiasts from watching this inspiring film.
Despite noticeable comparisons to many recently released top-notch music documentaries, including the other "discovered underdog" Oscar award-winning documentary Searching for Sugar Man, A Band Called Death brings to light such a unique tale of loss and discovery that it is worth viewing. The quirkiness and genre-defying aspects of this gem definitely fit the style of other Drafthouse Films acquisitions.
Watch the trailer for A Band Called Death below: