Review: Somm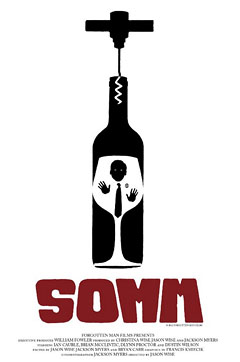 I know very little about wine, and in fact I don't even drink it very often. And yet I was fascinated by the documentary Somm, about a handful of candidates for the extremely challenging master sommelier test, which many attempt and very few pass. I caught the movie at Hill Country Film Festival in May, and it opens today in Austin at Violet Crown Cinema.
Somm, the first feature-length film from Jason Wise, focuses on four sommeliers preparing for the test, starting three weeks out and going through the test weekend in Houston. They must pass three exams: theory and history, service and blind tasting. In between time with the candidates, other sommeliers and professionals in the wine industry check in on aspects of being a sommelier, tasting wines and preparing for this test.
The four candidates are fascinating to watch and easy to differentiate, all with distinct characteristics. Ian, who is extremely serious about the test prep, seems to get a little more screen time than the others. My favorite may have been DLynn, whose coworkers call him "Mr. Smooth," who was a lot of fun to watch. The candidates all know one another to some degree, and help each other through the prep.
The film starts to lag a little bit about two-thirds of the way through, when we are familiar with who these guys are and what they're doing, and we just want them to get to the test already and find out how they fared.
Fortunately, amusing anecdotes and colorful characters pull Somm through its slower segments. The most memorable interview subject is Fred Dame, the first American to pass this test, who helps mentor and test the candidates. I like watching him pretend to be an irate customer during DLynn's practice service test. Next he grills the hell out of Brian during a practice tasting session. Other sommeliers have some very funny stories about Dame as well.
Another entertaining segment of the documentary focuses on the ways sommeliers learn to smell wines and describe what they're smelling. There's a difference between fresh herbs and dried herbs, and the notes they describe include tennis balls, garden hoses, and cat pee ("the code word for that is blackcurrent").
One problem I faced with Somm is the same I had with last year's big foodie doc, Jiro Dreams of Sushi. The four candidates are all male, and I'm guessing this is a male-dominated profession, but the documentary never addresses gender issues. Two female sommeliers (one a master) and one female winemaker are among the number interviewed, but not about a gender imbalance. Most of the female facetime in this movie is with the candidates' wives and girlfriends, talking about how much time the prep takes and how they hate cleaning up their husbands' spit buckets after a night of tasting prep. It would have taken just a few minutes to provide some context and clarity on this issue, which loomed large.
Despite this omission, Somm is a nice light documentary for wine lovers and newbies alike, especially at a theater like Violet Crown where you can have wine before and during the movie if you like. And if you're not a wine lover, it should go well with coffee too.