Cine Las Americas Day 3: Don't Fear the Subtitle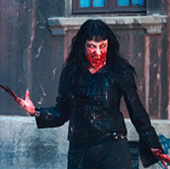 It's day three of Cine Las Americas, and the start of the weekend. If you're considering seeing films this weekend, why not check out the festival? This weekend alone brings us 74 films representing 14 out of 18 countries, and a lot of different genres, so there's something for everyone.
If you want to get your horror on, there's Sangre eterna (Eternal Blood), one of the Chile retrospective films. The film (pictured at right) includes an abandoned house, vampires and a character named Dahmer. Sangre eterna is playing Saturday at Regal Metropolitan at 11:59 pm.
Are veterans' affairs important to you? Check out Animas perdidas (Lost Souls) tonight at 7 pm at the MACC. The film is free and the filmmaker will be there.
Jonesing for a music documentary post-SXSW? If music and environmental issues are both important to you, see A Arvore da Música (The Music Tree), for free, at the MACC on Saturday, with the filmmaker in attendance.
If you're concerned about children's welfare, run over to the Capital Extension Auditorium (Room E1.004) today at 2 pm for a special screening of The Least of These . The screening includes a panel discussion related to HCR 95, a resolution urging Congress to consider better alternatives to family detention. The Least of These will screen again on April 27.
Another film about complex immigration issues is The Other Side of Immigration , screening free at the MACC tonight at 9 pm, with the filmmaker in attendance.
There's also Exiled in America, a 10-minute documentary short that screens with the Hecho en Tejas program on Saturday at 2 pm at Regal Metropolitan.
Hecho en Tejas is a program of Texas-made shorts, including two Austin films, Los ojos de Javier and Duplex.
This afternoon at 4 pm, Texas-centric Cruzando screens at the Metropolitan. So go out and support HB873 getting signed into law this week, and see some Texas films.
I could go on and on, but 74 films are screening this weekend at Cine Las Americas. Hopefully this sampling will whet your appetite for films you probably won't see in your cineplex any time soon. For more information about the schedule and venues, go to the Cine Las Americas website.