Rodriguez Reveals His Next Projects at Film Incentives Bill Signing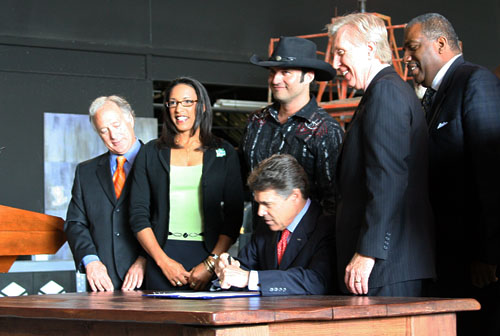 Yesterday, I headed over to Troublemaker Studios to attend the bill signing for House Bill 873, which improves the incentives that film, video, and game productions receive when they work in Texas. Troublemaker had set up a studio for the event, which was packed with locals who work in the film industry and a few politicians. I suspect some people not only wanted to see the signing but also get a peek at even a bit of Troublemaker Studios, and the event area was nicely dressed with some cars used in Robert Rodriguez's films. Yes, I've got photos after the jump.
Rep. Dawnna Dukes of Austin introduced the bill in the legislature this session, and spoke at the event along with Bob Hudgins, director of the Texas Film Commission. Gov. Perry was confident that the incentives would help bring enough film production to Texas to give the economy a huge boost.
While I'm happy that Texas is remaining competitive with its film incentives, I would have liked a little less of the "nyah, nyah, nyah, take that, Louisiana and New Mexico!" attitude that nearly every speaker had. I'm sure this is because I'm from Louisiana, and sheesh, people, they can use all the economic help they can get. However, they also noted that Texas film professionals will now find it easier to work in their home state, a sentiment I can get behind.
Robert Rodriguez, acting as host for the event, got a lot of attention when he started to name the films he now felt he could shoot here in Austin.
"I'm very happy that I'll be able to shoot my upcoming Machete here, a sci-fi action film called Nerveracker, a reboot of the Predator series called Predators, and a couple of smaller movies called Sin City 2 and The Jetsons." Now that's a busy schedule.
Variety has more information about all of these upcoming projects. Looks like Nerveracker is already shooting, and that Machete will start production in June. I love watching Danny Trejo so you can guess which movie I'm most excited about. No one seems to know what's going on with Sin City 2, but rumors have been flying.
In addition, Rep. Dukes noted that NBC has just announced that Friday Night Lights will continue to shoot in Texas, perhaps as a direct result of the bill.
There's still work to do on the film incentives law -- $40 million in funding needs to be appropriated in order for the new incentives to work properly. But everyone was focusing on the positive yesterday.
And now, the photos. Here's the setup for the event -- that's the helicopter from Planet Terror in the background. The chairs all advertise either Sin City or Rodriguez's upcoming film Shorts: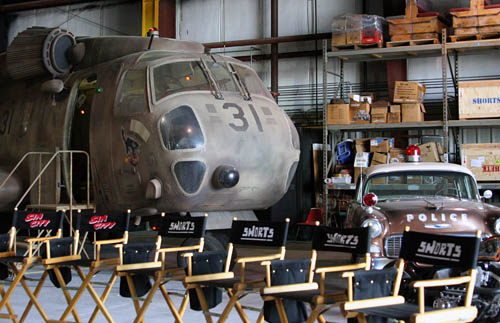 Rep. Dukes, Gov. Perry, and Rodriguez all applaud the new film incentives: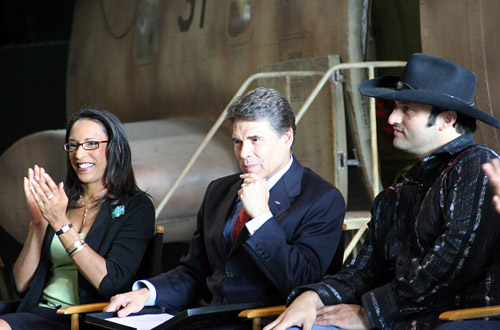 The crowd's excited too: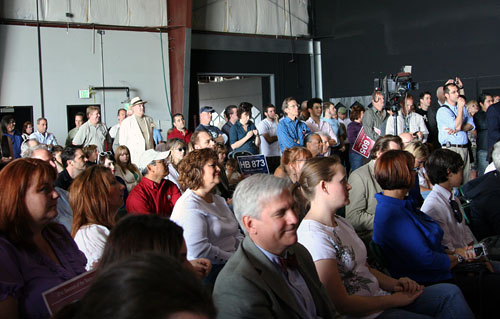 Rodriguez is pleased to introduce Gov. Perry to sign the bill: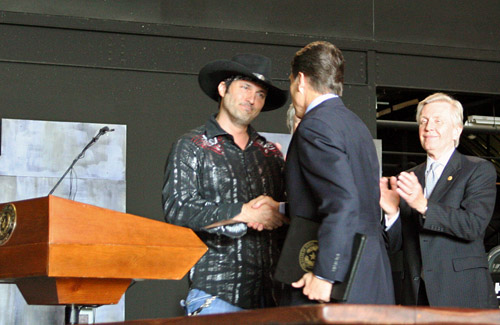 After the signing, the TV news crews did some interviews. I got a kick out of watching one reporter filming her intro on another one of the cars in the studio: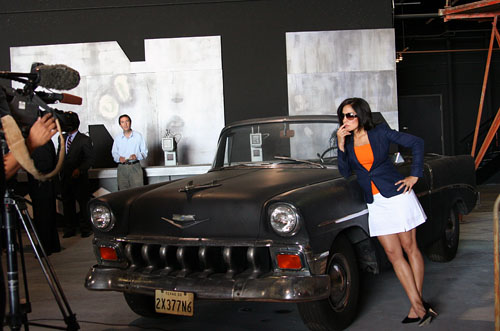 But my favorite vehicle was the one Freddy Rodriguez's character drove in Planet Terror:
A full set of my photos from the event is available on Flickr. In addition, you can watch a YouTube video of Rodriguez's announcement. The Texas Film Commission also has video of the entire event.