SXSW Review: Trash Dance
Saturday was a big day for Austin film, not just because of the SXSW super-secret screening of local C. Robert Cargill's horror debut Sinister (J.C.'s review), but also because it saw the world premiere of Austin-shot (and choreographed, scored, acted, and directed) Trash Dance, for an afternoon screening at the Paramount Theatre. Trash Dance was shot by Austinite Andrew Garrison as he followed choreographer Allison Orr creating the largest project of her life.
Orr spent a year working with employees of the Austin Department of Solid Waste Services: working their routes, learning their jobs, studying their movements and most importantly, gaining their trust as she designed and worked with them during their spare time to craft a performance including 24 workers with 16 of their work vehicles. While just ordinary people, they all demonstrate unique and wonderful talents, playing harmonica, breakdancing, or barbecuing. The level of time commitment was even more extraordinary given most of these people worked second and even third jobs to help make ends meet.
At first considered by most to be just a crazy white lady, Orr develops a powerful relationship with the dancers by speaking their language, performing their work with them and treating them as people, when they're used to being ignored or looked down upon when on the job. All the while, she maintains a lively, energetic and enthusiastic presence, even when scooping up dead animals.
Trash Dance was directed by Andrew Garrison and edited by Angela Pires, with an original score by Graham Reynolds, and of course choreographed by Allison Orr. You can still catch Trash Dance on Saturday, March 17 at 7:30 pm at the Stateside Theatre.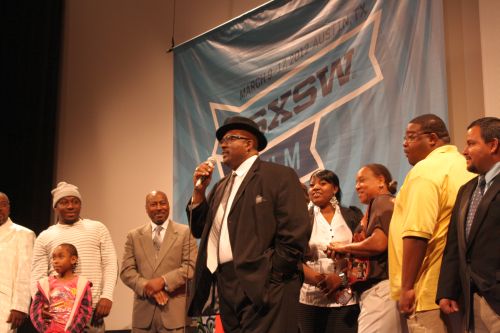 [Photo credit: Photos from Trash Dance world premiere at the Paramount, by Mike Saulters.]