Movies This Week: April 19-25, 2013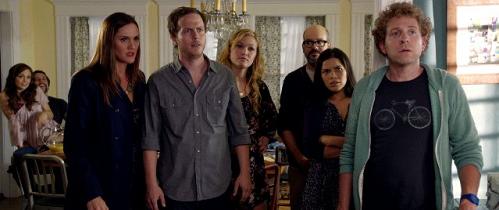 I'm not one to issue ultimatums, but this week's cinematic circumstances force me to do so: If you don't see It's a Disaster (pictured above), I'm afraid we can't be friends. I'll accept no lame excuses, people; we both know you can find the time to watch this indie comic masterpiece with strong ties to the Austin film industry. You must see it -- and don't think I won't ask to see your ticket stub next time we meet.
If you'd rather pick your own movie than be my friend, you have lots of other choices. The Cine Las Americas International Film Festival continues through Monday; passes and individual tickets still are available for the remaining films. If you're in the mood for a totally different sort of festival, the beer-centric and aptly named Off-Centered Film Festival also continues through Saturday. (Refer to Jordan's overview of the festival for more information.)
French New Wave fans shouldn't miss the Austin Film Society's screening of Zazie Dans Le Métro, Louis Malle's 1960 satirical fantasy about a 12-year-old girl who escapes the watchful eye of her uncle to explore the sights of Paris. Presented as part of the AFS Essential Cinema series, Zazie Dans Le Métro screens on Tuesday at the Marchesa Hall & Theatre.
This week's Stateside Independent selection on Monday night is a double-feature: Leviathan and Sweetgrass. Filmmaker Lucien Castaing-Taylor, who directed both documentaries, will hold a Q&A after Leviathan, which he co-directed with Véréna Paravel.
The madmen of Master Pancake have picked an unusual choice for this week's mockery: Goldfinger. Never mind that the 1964 James Bond flick is considered one of the franchise's best; Master Pancake will devalue Goldfinger (their joke -- not mine) the same way they skewer lesser films. (Then again, any film with a character named Pussy Galore may be fair game.) The pancaking happens today and Saturday at the Alamo Ritz.
Movies We've Seen
It's a Disaster -- I couldn't be more smitten with this uproariously funny comedy from University of Texas alums Todd Berger and Kevin Brennan. A story about eight people trapped in a Los Angeles house during a Sunday brunch from hell, It's a Disaster is no less than a comic gem. As I said in my 2012 Austin Film Festival review, the movie is "an absolute hoot, part screwball comedy and part dark satire, a film that crackles with endlessly witty observations about modern relationships and the angsty challenges of youngish adulthood." (Violet Crown)
Oblivion -- Set on a future Earth devastated by decades of war with aliens, this sci-fi film stars Tom Cruise as a drone repairman who discovers a crashed spacecraft that causes him to question his beliefs about the war. Elizabeth, however, isn't questioning her beliefs about Oblivion: "Despite the elegant visual effects (IMHO not enough to make it necessary to see in IMAX), the Tom Cruise-dependent Oblivion's muddled and cliche-heavy plot, along with the overlong running time, make for a mess of a movie." Look for her review this weekend. (wide)
Starbuck -- In this festival favorite from Canada, a fortysomething slacker learns he has fathered 142 people through artificial insemination. Mike is a fan, saying that "too much of anything is not good, except maybe it can be. Starbuck is a lighthearted comedy that explores a fresh take about the serious side of what it means to be a father." Look for his review this weekend. (Arbor)
Upstream Color -- A hit at SXSW 2013, this much-debated sci-fi film follows a man and woman who become entangled in the life cycle of an ageless organism. Elizabeth had mixed feelings about Upstream Color after seeing it at SXSW, saying in her SXSW dispatch that the film is "the kind of movie about which you don't want to give too much away. Yet I watched it, and I'm still not sure I completely understood everything that happened." (Alamo Slaughter Lane, Violet Crown)
Other Movies Opening in Austin
Camp -- In this drama, a camp counselor and a troubled kid learn a lot from each other. (Gateway)
Filly Brown -- In this musical drama, a promising Latina hip-hop artist must compromise her ideals for a shot at stardom. (Cinemark Southpark Meadows, Metropolitan, Tinseltown North)
From Up on Poppy Hill -- This animated film from Japan's Studio Ghibli follows a group of Yokohama teens trying to save their school's clubhouse from demolition before the 1964 Tokyo Olympics. (Arbor)
Girl Rising -- This documentary tells the stories of nine girls from around the world who face arranged marriages, child slavery, and sexual inequality. Through education, they break barriers and change their lives. (Galaxy Moviehouse and Eatery, Metropolitan)
Home Run -- In this Christian-themed sports drama, a pro ballplayer with a substance abuse problem returns to his hometown for rehab and finds new hope by coaching a misfit Little League team. (Barton Creek Square, Cinemark Cedar Park, Gateway)
The Lords of Salem -- Rob Zombie's latest horror flick is the story of a Salem, Massachusetts radio DJ who wonders if she's going mad after a record triggers flashbacks of her town's violent past. (Barton Creek, Gateway, Tinseltown North, Tinseltown South)
The New Juarez -- This documentary blames the U.S. and Mexican governments for the drug-related violence along the border. (Metropolitan)