SXSW 2013 Dispatch: A Packed House at 'Upstream Color'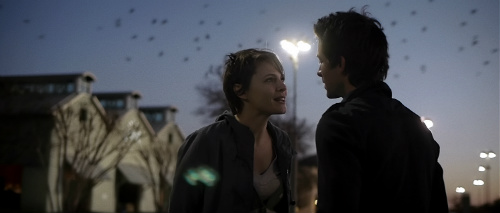 My first film of SXSW 2013 was a 6:30 showing Friday night of Shane Carruth's movie Upstream Color at Stateside. It looked like only people with badges got in and the screening was packed. As the film was introduced, we were told Carruth's plane was delayed so he couldn't be there. Then the film got underway.
Shot at least partially in Dallas (I surmise from the DART trains that appear), this drama shows how Kris (Amy Seimetz) is taken in/abducted by a brainwashing con man and a year later falls for a man (Carruth) who may also have been a victim. Also involved in the film are pigs, worms and some guy who likes making music by recording noises from found objects in nature.
The movie is shot beautifully and the sound is amazing ... still, there were a couple of scenes that made me want to gag, and the story moves slowly. Partially I think the plot seems hesitant because Carruth's film is more of a visual experience -- there isn't a lot of dialogue speeding things along.
Upstream Color is the kind of movie about which you don't want to give too much away. Yet I watched it, and I'm still not sure I completely understood everything that happened. I didn't stay for the Q&A after, as I had to hoof it to the Violet Crown for my next movie. The movie screens again at SXSW on Tuesday at 6:45 pm at the Topfer Theatre at ZACH, and will have a theatrical release starting April 5.
Here's the trailer: