A Peek at the Cine Las Americas Lineup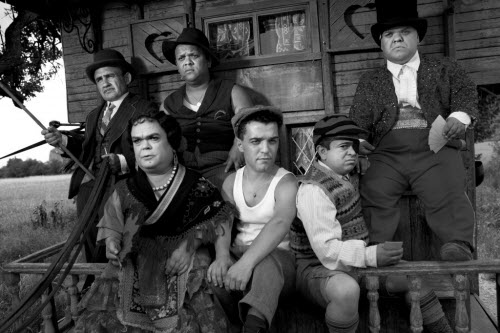 It's unfortunate that Austin Jewish Film Festival and Cine Las Americas International Film Festival overlap for four days this week, but you can treat yourself to a whirlwind of images, stories, music, and themes by jumping back and forth between the two. AJFF is already underway (my preview). Cine Las Americas starts tomorrow night and runs through Sunday with a full and varied lineup.
You can buy film passes and tickets from the fest's website, or individual tickets at the theaters before the screenings (space available). Films at the Mexican American Cultural Center are free; other venues (where you need tickets) include Stateside at the Paramount and Alamo Drafthouse Village.
As it has since the initiation of each festival, Austin Film Society is co-sponsoring films in both fests. For Cine Las Americas we are helping to present a fascinating elegiac documentary, Carriere: 250 Metros (Juan Carlos Rulfo, Mexico, 2011) at Stateside Theatre on Thursday, April 18 at 7 pm. The director should be available for a Skype Q&A after the screening.
Rulfo is the inspired director of Del olvido al no me acuerdo (1999), an ethereal examination into the early life and village settings of his father, Juan Rulfo, the well known author of Pedro Páramo, the 1955 novel often credited as being a forerunner of magical realism. Juan Carlos Rulfo also directed the tough-minded yet lyrical documentary In the Pit (2006) about the hellish construction of the second deck of a massive freeway in Mexico City. What the father achieved with words, the son realizes with haunting images and memorable subjects.
Carriere: 250 Metros is no exception, as he follows the French screenwriter Jean-Claude Carrière into his memories of collaborating with Luis Buñuel on adaptations, dialogue and screenplays for six films during the prolific Spanish director's third stage of his directing career (from Diary of a Chambermaid to That Obscure Object of Desire). Together with Rulfo and the elderly screenwriter we travel to seven regions of the globe and through 50 years of creativity. With obvious irony he indicates that after all this traveling and through all these experiences, he plans to die no more than 250 meters from the doorway of the house where he was born in 1931. Here's the trailer:
Here are some of the other feature narratives, documentaries and short films at Cine Las Americas this year:
The buzz surrounding Blancanieves (Snow White) has been deafening since its premiere at Toronto last year. This Spanish/French co-production, directed by Pablo Berger, mixes a number of fairy-tale elements together in telling the story of a young woman who escapes an evil stepmother (naturally) to run off with a troupe of bullfighting dwarves and become a matadora herself. Set in 1920s Sevilla (before all that fascist mess stirred up by Franco), Blancanieves is a black-and-white silent film with intertitles and music. This is a must-see experience available as the festival's opening-night film.
Pablo Stoll Ward's simply titled narrative film 3 is the tale of a middle-age man who feels he made a mistake ten years ago by walking out on his first wife and daughter, now a teenager. He wants to slip back into their lives, but that won't necessarily be so easy. The director first came to the attention of Austin audiences with his wonderful Uruguayan slacker comedy 25 Watts (2001), co-directed with Juan Pablo Rebella, who unfortunately committed suicide in 2006. Stoll Ward has gone on to have his own career as a writer-director.
7 Cajas (Juan Carlos Maneglia and Tana Schémbori, 2012) teaches a young boy that "easy money," just for delivering seven boxes, may not be so easy after all. This action-thriller provides a cinematic joyride through the market of Asunción, Paraguay.
What Hong Kong was for Britain, Macao was for the Portuguese -- an "exotic" colonial outpost on the Chinese coast, where anything might be bought. With a glossy documentary look and feel mixed with suspense and crime, the Portuguese film The Last Time I Saw Macao (João Pedro Rodrigues and João Rui Guerra da Matapromises, 2012) offers a phantasmagoric visual adventure. Check out the trailer below:
Marcelo Galvão's comedy Colegas (Brazil, 2012) follows the adventures of three young friends with Down syndrome. Following cues from one of their favorite movies, Thelma and Louise, they go on the road in pursuit of their not-impossible dreams.
Faith is severely tested in Pablo Trapero's new film White Elephant (Argentina, 2012) when two lifelong friends, now priests, are torn apart by drug wars in the Buenos Aires slums where they minister to the poor. Trapero is one of Argentina's foremost producer-directors and always worth checking out.
Narrated by Javier Bardem, Sons of the Clouds (Spain, 2012) casts light on yet another tragic tale of displaced people. Here, over 200,000 refugees live in tent cities in the deserts of Western Sahara, a former Spanish colony, partly invaded by Morocco.
Crafty and creative right up until his last breath, Chilean magical-surrealist director Raul Ruiz bid adieu with La noche de enfrente (France/Chile, 2012), impossible to describe in a few words, but well worth seeing. I have dearly loved but rarely "understood" his films, which are always more like journeys into someone else's dream world. Here's the trailer:
True to its mission to present works from all the Américas, as well as the motherlands of Spain and Portugal, Cine Las Americas always has some interesting films by Native Americans (North and South). Jeremy Torrie's Path of Souls (Canada, 2012) sounds like an intriguing exploration of sacred sites and native elders equally adept in talking about shape shifters, dark matter, wormholes and parallel universes.
Cine Las Americas is screening many more films awaiting discovery by Austin viewers who wish to check out potential gems in the Narrative Feature Competition, Documentary Feature Competition, New Visions (two Works-in-Progress), Panorama Feature Films (free), Hecho en Tejas, selections of short narratives and documentaries and finally the Emergencia Youth Program. The fest presents six days packed with insight and imagination.
Chale Nafus is the Director of Programming and a Founder's Circle member at the Austin Film Society.