Austin Jewish Film Festival Starts Tomorrow Night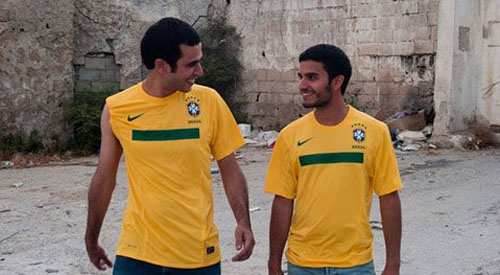 The always-popular Austin Jewish Film Festival is back with a selection of stimulating films. The fest starts tomorrow night (Saturday, April 13) and runs through Friday, April 19 at Regal Arbor. Tickets and festival badges are still available, and some noon screenings are free.
Austin Film Society is co-sponsoring two of the fest's movies this year:
The Other Son (pictured above) (Lorraine Levy, France/Israel, 2012) is a powerful, yet hopeful, portrait of two young men -- one Palestinian, one Israeli -- switched at birth. They learn to transcend cultural, national and religious boundaries after they meet. [screening info]
Out in the Dark (Michael Mayer, Israel, 2012) joins the growing list of well-made Israeli films exploring gay life in Israel. In this film, we see the difficulties of love between a young Palestinian student and a slightly older Israeli lawyer. In a well-acted but tough role as a homophobic cop, new Austin resident Alon Pdut proves his ability to inhabit unflattering roles, just as he did in The Long Journey, which AFS and AJFF screened a few weeks ago. [screening info]

Watch the Out in the Dark trailer below:
I'm excited about seeing a number of other narrative films and documentaries in this year's AJFF lineup:
In addition, AJFF is also screening wonderful short docs dealing with the New York City garment industry, the rescue of an essential Israeli photo archive, the testimony of concentration camp survivors with the telltale tattooed numbers, efforts to overcome hunger in America, the embroidery art of Ester Nisenthal Krinitz and other subjects.
Chale Nafus is the Director of Programming and a Founder's Circle member at the Austin Film Society.