Movies This Week: March 29 - April 4, 2013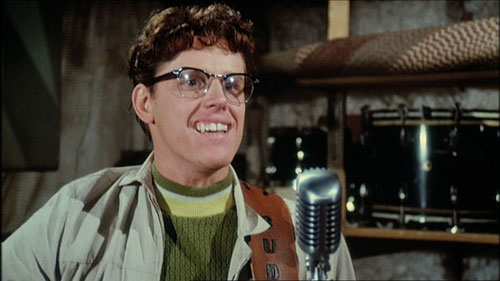 Texas singer-songwriter Buddy Holly was immortalized onscreen in Steve Rash's 1978 movie The Buddy Holly Story, brilliantly played by Gary Busey (pictured above). The Alamo Drafthouse Ritz presents a special screening of a new 35mm print for this week's Music Monday as well as an additional screening Sunday afternoon.
On Sunday at Alamo Village, Cine Las Americas presents Anita as part of their Signature Series, co-presented by the Austin Jewish Film Festival. Anita is a young Argentinian woman with Down syndrome who lives with her mother Dora (Academy Award nominee Norma Aleandro) until tragedy strikes nearby. Anita must then fend for herself as she ventures out across Buenos Aires and encounters other survivors of the deadliest bombing in Argentina's history. After viewing the opening clip, I can't wait to see what happens next.
Elizabeth already covered the Stateside Independent special screening of Academy Award foreign film nominee War Witch on Monday but I want to reiterate -- don't miss this powerful story about a young female child soldier.
The Austin Film Society's Essential Cinema presents the Turkish film Toll Booth on Tuesday at the Alamo Drafthouse Village. Introverted toll booth officer Kenan may seem to live a humdrum life but his imagination more than makes up for it in this darkly humorous drama.
On Wednesday, Flix Brewhouse presents Empire Records as part of their monthly Ladies Night Out series with wine and cocktail specials. This 1995 film about an independent music store trying to survive in an industry being taken over by big chains is well timed with the upcoming Record Store Day on April 20.
Finally, Bob Byington's comedy Somebody Up There Likes Me opens next Friday, but tickets are on sale now for a special April 5 screening at Violet Crown with Byington and Nick Offerman in attendance and a post-film reception. Only a few seats are left, so act fast. Read Don's review from SXSW 2012 for details about the movie.
Movies We've Seen
NO -- An ad executive comes up with a campaign to defeat Augusto Pinochet in Chile's 1988 referendum. Don states in his review, "Without preaching its message, NO says plenty about the cynical, marketing-fueled nature of modern politics and its relationship to the mass media." (Violet Crown Cinema, Regal Arbor at Great Hills)
Wrong -- Dolph (Jack Plotnick) loses and then must find the love of his life ... his dog Paul. Don says "Wrong certainly is quirky and absurd, but it lacks the endearingly odd humor, cool factor and narrative originality of Quentin Dupieux's previous feature, Rubber. It's weird, but not engaging." -- read his review. (Alamo Slaughter, Village, Lake Creek locations)
Other Movies Opening in Austin
G.I. Joe: Retaliation -- This testosterone-driven action flick stars Dwayne Johnson as Roadblock, one of the G.I. Joes who once again fight their mortal enemy Cobra. The team are also up against the president world leaders after being framed for crimes. (wide)
The Host -- This sci-fi story focuses on Melanie (Saoirse Ronan), a young girl resistant to the parasitic aliens that have invaded Earth by taking over bodies and erasing memories. Be prepared for plenty of teen romance in this story adapted from a novel by Twilight Saga author Stephenie Meyer. (wide)
Temptation -- Writer/director Tyler Perry takes a departure from comedy for this drama about a married woman who fails to thwart the advances of a businessman and must deal with the aftermath. (wide)