Stateside Independent Series Brings 'War Witch' to Austin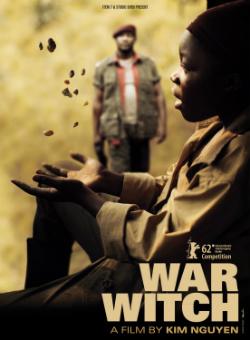 Shot in the Democratic Republic of Congo in 2011, the movie War Witch spins the tale of Komona (new actress Rachel Mwanza, who won a few awards for this role), a young girl abducted at the age of 12 by rebels during an attack on her village. The film is narrated by Komona, telling the story of her past two years to her unborn child.
After she is forced by the rebels to commit atrocious acts, Komona comes to be valued and esteemed for her intuition and preternatural ability. The "milk" the fighters drink causes her to see visions, ghosts of the dead. Still, amid Komona's horrific situation, we see small glimmers of hope in her budding relationship with a fellow child soldier, a search for a white rooster, and her ingenuity.
Writer/director Kim Nguyen's film is made up of memorable, haunting imagery and subtle, powerful performances (especially from Mwanza) that keep it grounded. Despite the violence obviously implied in scenes, War Witch never veers into gory territory. We are seeing the story through Komona's eyes, and for her, bulletholes in a cloth are as stark a reminder of death as any blood shed.
Stateside Theatre offers you a chance to see War Witch on the big screen. On Monday evening, April 1, the movie will be shown as part of their new Stateside Independent series. This Austin premiere will be screened in HD digital presentation on Blu-ray. [ticket info] If you decide to go (and you should!), it might be a good idea to pack some tissues.
War Witch was Canada's submission to the Best Foreign Language Film category of the recent Academy Awards, and ended up as one of the five final nominees. You can see the trailer after the jump.
[Poster image via UNA NY]