SXSW Dispatch: 'An Unreal Dream' at Alamo Village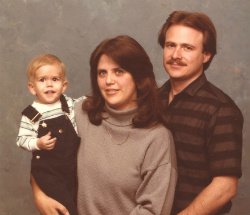 I took it somewhat easy on Wednesday and just went to one film: the 6:30 pm showing of An Unreal Dream: The Michael Morton Story at Alamo Drafthouse Village. As I drove up at 5:40, the line for tickets was already out the door. There's definitely local interest in Morton's situation, as well as the resulting documentary.
Once I got in and was snacking on my chips and queso, I spotted Morton himself walking around and being introduced to folks in the audience. Producer Marcy Garriott spoke before the film and mentioned special guests in attendance for the Q&A afterwards; I surmised Morton was likely one of them.
The film itself largely consists of interviews recorded at the Williamson County Courthouse. Morton sits in a wooden chair below the judge's dais in an empty courtroom and talks about his relationships with his wife Chris and his son Eric, and his wrongful conviction for Chris's 1986 murder. Vintage 1980s news clips are thrown in (oh hi, young Judy Maggio!) and Morton is shown leaving the courthouse after his conviction, defiantly saying, "I did not do this," to the reporters and cameras.
In An Unreal Dream, director Al Reinert includes interviews with Morton's trial lawyer, jurors from his trial, fellow inmates (from his 25-year period of incarceration in Texas prisons), and folks from the Innocence Project. Throughout the film, Morton's voice is the strongest (which is fitting, given it's his story).
I expected the film to be something like an episode of PBS's Frontline, but it is less journalistic and more emotional. The story as told in the film never really sucked me in, despite how fascinating it really is. Still, I heard much sniffing from others in the audience.
An Unreal Dream: The Michael Morton Story screens one more time during SXSW: Saturday, March 16, 4 pm at Topfer at ZACH (screening info).
[Morton family photo circa 1985, courtesy of Morton family via film's website]