SXSW Review: Good Night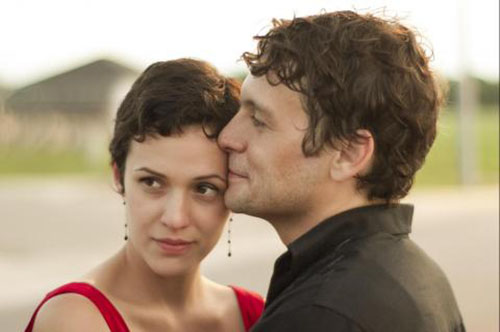 After several years in the making, Sean Gallagher's Austin-shot film Good Night debuted at SXSW -- find out more about the journey from Gallagher in Elizabeth's interview. The good news is that since this narrative provides glimpses of the past, the filmmaker was able to capture the main characters over a time span that could mirror the fictional narrative.
Good Night revolves around a young twentysomething couple, Leigh (Adriene Mishler) and Winston (Jonny Mars) Rockwall, as they gather with their closest friends to celebrate Leigh's twenty-ninth birthday. The guests enjoy casual conversation as well as controversial and current topics as they enjoy their dinner, until Leigh drops a bomb having a profound effect on them all. The guests, including Leigh's best friend Alice (Samantha Thomson), all react differently as they process the news. Through voice-overs and flashbacks we learn how each person became connected to Leigh.
Mishler is sweetly exquisite as Leigh, and Mars embraces the complexity of a husband who is frustrated by his inability to solve their problems. Good Night is also strengthened by its talented supporting cast, which includes Chris Doubek, Alex Karpovsky, University of Texas alum Todd Berger (It's a Disaster), Parisi Fakhri and Jason Newman (The Man From Orlando).
The first act of Good Night gets off to a slow start, with lengthy scenes around the dinner table, but once Leigh makes her revelation the pace picks up. The vignettes from each character help engage the audience in the story of Leigh and Winston. Several cameras capture all the interactions between the characters, leaving viewers feeling as if they are guests at this intimate gathering themselves. Gallagher makes good use of the interior settings of the Rockwalls' suburban home, whether in conversations between two individuals or the interactions of the ensemble cast as a whole.
The editing of flashbacks into the story was well done and easy to follow. The art design as well as the musical selections and score effectively embody and add depth to the character and spirit of the central character of Leigh.
Good Night is a bittersweet story that deals with difficult issues that are often out of our control, and puts a face to the personal tragedy through Leigh and Winston.
Good Night screens at SXSW again on Friday, March 15 at 1:30 pm at the Topfer Theatre at ZACH.