Austin at SXSW 2013: Sean Gallagher, 'Good Night'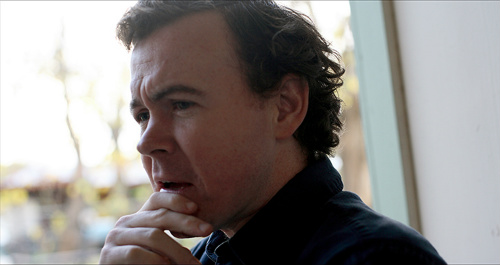 Sean Gallagher's full-length feature directing debut, Good Night, is premiering at SXSW on Monday, March 11 at the Rollins Theatre (screening info). This intimate drama depicts a dinner party in which the young hostess reveals some difficult news to her friends. The cast includes local actors Adriene Mishler, Jonny Mars, Chris Doubek and sometimes-Austinite Alex Karpovsky, as well as University of Texas alum Todd Berger.
Gallagher lives in Austin, and not only directed this film (which he shot here), but wrote and produced it as well. He's written and directed two shorts as well, Fuck and Out of Water. During his time at UT, he was the first recipient of the Samuel Fuller Award for Cinematic Intransigence.
He answered a few questions (via email) about his new film, improvisation and inspirations.
Slackerwood: What was the filmmaking process like for Good Night? How long were you working on it (conception to final edit)?
Sean Gallagher: There are two different types of pieces within Good Night -- there is a party, which is the bulk of it, and there are several, what I call, movements. The party was shot in two weeks in the middle of the summer. The movements were shot in short increments over the course of two years.
For the party shoot, I rented a house outside Austin and we turned the house into a set, our production headquarters, and a dormitory. Several of the actors and crew, including myself, lived there during the shoot, which was done almost completely at night. The movements were shot with a much smaller crew, several small pieces at a time, done mostly on weekends and when we could accommodate our various schedules. The script is based on a novella that I finished writing in 2004 so the whole project took a number of years to bring to fruition.
What are your thoughts on making a film in Austin?
Gallagher: I graduated from UT with an RTF degree so it made sense to stay here when I got out of school. Austin is a great place to make a film. There are a lot of interesting and talented people here who know how to get it done with very little. The community is definitely interested in moviemaking and it is happening at lots of different levels, from the big professional stuff to commercials to indie features, documentaries and even lots of student work.
Whereabouts in town did you film? Are there any familiar locations we can look out for?
Gallagher: We shot most of the movie in a suburb of Austin. The more familiar locations in Austin that we shot at were Mt. Bonnell, Barton Springs, the Greenbelt and Zilker Park. Austinites should easily recognize these places.
Is this story (or some part of it) based on personal experience?
Gallagher: No. None of this story is based on personal experience -- except for the fact that I have been to several dinner parties.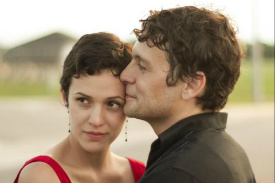 Was there much improvisation by the cast, or did you stick closely to the script?
Gallagher: It was a mix. For the most part, we stuck fairly closely to the script but there were takes in most scenes where the actors were allowed to improv as much as each actor saw fit, usually with regard to whatever reality they were in. By sticking to the script and allowing for improv, I think it helped create something that felt more organic while also providing each moment with a forward narrative motion.
I tried to shoot in long takes as much as possible with the first take usually focusing on the script and then the actors would branch out from there, adding or deleting lines with as much creative freedom as I could afford them. Also, I'd be remiss if I didn't note how great each and every one of our actors is. I think any director could have directed a good movie with a cast this talented.
Which directors or films inspire you?
Gallagher: I am a fan of many, many films and many directors -- but if I had to pick, my two favorite directors are John Cassavetes and Stanley Kubrick. With this movie, I think I was particularly inspired by The Celebration, Werkmeister Harmonies, The Rules of the Game and Woody Allen and Robert Altman movies - all for different reasons. I'd elaborate on all of this but probably only in person, if you're interested.