Star Trek: Turning 10 Minutes into 126 and Loving Every Minute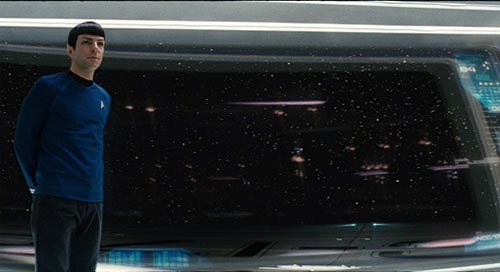 Updated: Alamo has posted photos and video from the event.
Austin is the film geek town, and everyone knows it. Fantastic Fest goes out of its way to put on special screenings throughout the year and giving priority seating to badgeholders, and they completely topped themselves, even when considering the Hellboy II screening last year. This was supposed to be some "never before seen by the public" footage from the new Star Trek film a few hours before the official world premiere in Australia. Fantastic Fest decided to pair it up with the the second film in the franchise, considered to be the best, The Wrath of Khan. With free popcorn and soda. And rumors of shirts and other goodies.
We didn't get 10 minutes. We got 126. With Leonard Nimoy, producer Damon Lindelof, and writers Roberto Orci and Alex Kurtzman. Hours before the official world premiere in Australia.
Suspicious minds like mine thought something was up when we saw press seats with personalized seating assignments. Then the intro included the writers and the producer. When The Wrath of Khan started and it was a really bad picture, which quickly burned out, we all knew. The switch was on.
But we all went insane when Leonard Nimoy stepped up on stage, raised his hand in iconic gesture, and had a film reel case with him. Nimoy was very gracious during the standing ovation. The audience was primed for a good time, and the film didn't let us down. The audience was full of people well versed in the first series, newer trekkers, and some who'd never seen any Star Trek at all. Everyone was buzzing afterwards, so it's very safe to say it went over very well.
It's a true reset to the franchise, and honors everything Roddenberry did with the original series, yet sets everything up for completely new stories. The characters we know and love are there, and some of the surprising casting worked amazingly well. Chris Pine does an outstanding job as a younger Kirk, paying homage to Shatner yet making the role completely his own. He's not alone; all the primary characters are revitalized. The chief complaint was not enough Simon Pegg time.
To write much more would enter spoiler land, and I'll let someone else spoil it for you. There are moments when the trekness went a little over the top, but I'm not complaining. I grew up seeing reruns of the first series long before the next generation ever aired.
My personal disappointment was that Tim League didn't say "Stick around and you will get to see Wrath of Khan," which I regretfully have never seen in its entirety. But that's why I have Netflix. And I have a signed poster, a t-shirt, and a hat to remember it by. Thanks, Fantastic Fest.