SXSW Interview: David Hartstein, 'Along Came Kinky ...Texas Jewboy for Governor'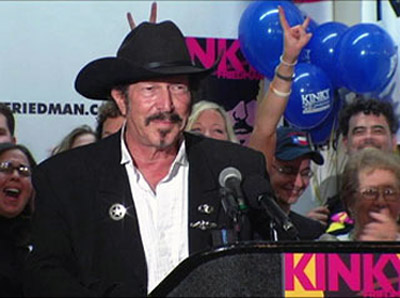 Love him or hate him, you have to admit Kinky Friedman is a genuine Texas Colorful Character, and it's fascinating to see what he's going to do next. (But not running for governor again. Please.) I started to tell you all my own little story about meeting Friedman when I worked as an Austin City Limits intern in 1994, but it went on too long. And I don't want to take the spotlight away from my e-mail interview with David Hartstein, director of the documentary Along Came Kinky ... Texas Jewboy for Governor. The film is having its world premiere at SXSW this year.
Along Came Kinky ... Texas Jewboy for Governor plays just once during SXSW: Thursday, March 19 at 7:30 pm at the Paramount. I bet it's going to be fun to watch with a big audience, especially if a lot of Texans are there. Here's what local filmmaker Hartstein had to say about the film.
Describe your film for us, in a quick and dirty paragraph.
Along Came Kinky...Texas Jewboy for Governor chronicles singing Jewish cowboy Kinky Friedman's 2006 independent gubernatorial campaign in Texas. See the outspoken Kinky, campaign staff strategizing for an unprecedented four-way race, and grass roots volunteers canvassing the state to raise awareness and money for their unlikely but incredibly sharp candidate.
What made you choose this particular subject for your film?
That is a good question with a few answers. To start, I moved here from New York in 2000 for film school. I became aware of Kinky right away through an old college friend of mine, Jared Lindauer. Jared grew up here and his family adopted me, inviting me to their home for all the Jewish holidays, etc. Randomly enough, Jared's grandmother was married to Kinky's dad. So, I actually first became aware of Kinky at a Passover seder or something like that.
My first year of film school, I needed to do a documentary portrait and I immediate thought of Kinky, who appealed to me because he was so Texas which was something so foreign to me at the time. So I jumped into the music and the books and I just didn't get it, just like I felt that I didn't quite get Texas, and I moved on and made a crappy little documentary about a guy who worked in a video arcade on the Drag but was an aspiring screenwriter.
Cut to 4 years later and I'd become close with Paul Stekler, having worked on Last Man Standing and TA'ing for him. Paul hired me to edit his show for KLRU, "Special Session," a Sunday morning roundtable covering the Texas legislature. I was out of film school and trying to come up with a new project and I had this obsession with celebrity and politics and voter apathy. I was thinking about things like why people who would never vote for a candidate are actually paying to vote on American Idol. At that point too I felt way more comfortable with the idea of Texas and very much wanted to tell a Texas story.
So there was a moment when my awareness of Kinky as a character and my increasing interest in the machinations of government and Texas politics collided and I went down to San Antonio to cover Kinky's announcement on February 3, 2005. Believe it or not, after that I didn't do another single thing to cover the campaign until August 2005. I was working on another show for PBS out in Alpine, Texas, and Kinky had a campaign stop out there that I covered. And seeing the energized crowd and really feeling my own frustration with the political process, chose to dive in to see the campaign through to the end.
How long have you been working on the film?
Well, I first covered Kinky's announcement on February 2, 2005 and now we're scrambling to finish the color correction, motion graphics and marketing materials in preparation for the March 19 premiere at the Paramount. So it's been over 4 years now. I feel a little pathetic writing that, and since I'm now teaching at UT in the RTF Department, I feel like this project has been like a PhD dissertation or something. I've learned so much about Texas and filmmaking in the process and met so many wonderful people that even though it's been so long in the making, I'm really glad I chose to see it through
What are the "Austin connections" in this film? Will Austinites recognize any particular locations? (Obviously, we'll recognize Mr. Friedman.)
Hmm, so many. Kinky grew up here in Austin, having graduated from Austin High and then attended UT. The second scene in the film is of Kinky and campaign director Dean Barkley talking to students about the signature-gathering process to get Kinky on the ballot. Also, Kinky had his election night party at Scholz Beer Garden. Obviously Austin, being the capitol, is the center of Texas politics and all the candidates were running offices out of here. We shot at the Capitol, at the Secretary of State's office downtown, all over town. There's a quick cutaway of the Magnolia sign on South Congress where some campaign volunteers were gathering signatures. Oh, and the Guv Bug (Kinky's pink trailer with his hat and cigar) drives up and down Congress in the film and right near the UT Baseball Stadium. There's probably a bunch more I'm not remembering.
What are your future plans for this film?
Well, March 19th looms large. I'm sitting here typing this while in the room with David Hobizal, who is an amazing motion graphics designer, as he works some really cool stuff. We're still submitting to a bunch of other festivals and we're looking to Europe as well, because Kinky has a pretty significant following over there too.
Tell us one thing about this film that is going to make it impossible for people to resist seeing it at SXSW.
Simply put it's really, really funny and I guarantee you'll see things from each of the candidates that you'll never see anywhere else.
And if I can be allowed a second thing: I've found Kinky to be a fairly polarizing figure and I think folks on either side of the fence are going to leave quite satisfied. What I mean is that if you love Kinky there's a ton of great stuff to keep believing in him and to feel justified for supporting the campaign. And I think if you hate Kinky and just wish he'd go away there are some enough in there of him falling flat on his face and self-destructing.
One more thing: you end up with a great insider/full access look at two campaigns, Kinky's and Chris Bell's. There's an AMAZING off-the-cuff moment where the two meet on the campaign trail and neither really knows how to handle the other. Kinky's kind of too "real" and authentic and kind of lets his guard down, Chris goes for a bit of intimidation and tries to play it cool, but that doesn't really work either. It was something you'd never see in any other campaign coverage because it wasn't an especially big moment, no pithy soundbites. But amazing to watch none the less. And then of course there's election night itself with Kinky at Scholz Beer Garden. That really ended up being a microcosm of his entire campaign with the night starting out so optimistically and the kind of devolving into a bit of a mess, but then Kinky comes back and ends the night with the most amazing "non-concession" speech you'll ever hear.
What one place to visit/eat/drink would you recommend to out-of-towners here for SXSW?
That's the hardest question you asked! If Las Manitas was still around that would be the easy answer for a good breakfast. For Mexican, you gotta hit Polvo's, their food is the best and you can get pretty drunk and festive with the Mexican Martinis. I think anyone visiting from out of town should eat Texas BBQ but all the best places are good drives out of town. I guess I'd go with Rudy's there. And if it's warm enough you gotta bring your suit and go for a dip in Barton Springs. The water's cold enough that it'll probably keep you awake all day for screenings.