Slamdance Brings Its Best to Austin This Weekend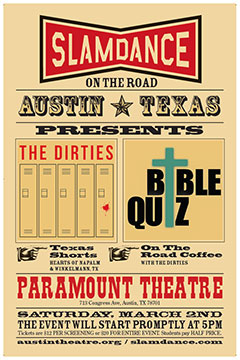 As I'd mentioned in my Sundance wrap-up, I was quite pleased to catch part of the concurrent Slamdance Film Festival while in Park City, Utah. You don't need to leave Austin, however, to catch some of the great films featured at the independent film festival this year, including some Texas shorts.
Slamdance hits the road this month with "Slamdance on the Road," a traveling showcase featuring 2013 Grand Jury award winners and local film shorts. The first stop is here in Austin on Saturday night at the Stateside Theatre. It's a double-feature, starting with Slamdance 2013's best documentary Bible Quiz and Austin short Hearts of Napalm, and ending with best feature narrative The Dirties and Texas-made short Winkelmann, TX. Filmmakers will be in attendance for post-screening Q&A.
Local filmmaker and Slamdance alumnus Bryan Poyser (Lovers of Hate, The Fickle) will also participate in a "Slamdance On The Road Coffee With..." with writer/director and lead actor Matthew Johnson and writer/producer Matthew Miller of The Dirties, following the feature screening. I'm moderating this event and from my interaction with Johnson and Miller at Slamdance last month, I can assure an engaging discussion from the pair. Slamdance founder Peter Baxter and producer Mark Matukewicz will also be in attendance for this special event.
One of the most controversial films to screen at Slamdance, The Dirties revolves around two friends who are subjected to constant bullying while they're working on a movie for a high-school class project. As they create a revenge film around their real-life antagonists, fiction builds into darkly humorous and terrifying insights into the tragic effects of bullying in high schools.
Local short film Hearts of Napalm, written and directed by Andy Irvine, premiered at Slamdance last month and will precede The Dirties. Starring local actors Ashley Spillers and Alex Dobrenko, this film offers an intimate and humorous look at the efforts of two lovers seeking the ultimate satisfaction in bed.
The documentary Bible Quiz portrays budding love between teenagers Mikayla and her crush-team captain JP, as the pair explore faith, identity, sexuality and competition at one of the most unique summits in American religion today -- the religious sport of Bible Quiz. Director Nicole Teeny will be present for the Q&A. Short documentary Winkelmann, TX, which tells the story behind a ghost town in East Texas, will precede the feature.
Slamdance on the Road tickets are $13 online for individual screenings or $20 for a combined package of both Bible Quiz and The Dirties with special pricing for students of $6 per screening. Doors open at 4:30 pm for the documentary screening and 7 pm for the narrative. Purchase tickets online here. I look forward to seeing you all on Saturday night.