Movies This Week: February 22-28, 2013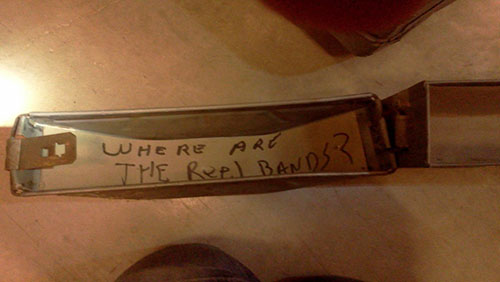 Long-time Alamo Drafthouse programmers Zack Carlson and Lars Nilsen may be moving into the next chapter of their careers, but one project that you can expect these vanguards to continue to support is the nonprofit American Genre Film Archive (AGFA). AGFA board members and advisors include Alamo Drafthouse founders Tim and Karrie League as well as Nilsen and Carlson, Joe Ziemba, and Sam Prime, who oversees the operations and development of the archive.
On Sunday at 2 pm, AFGA hosts a Reel One Party at Alamo Drafthouse Ritz. Periodic inspections are conducted on undocumented 35mm film prints contained in the archive by threading up several "reel ones" (which come in containers like the one at top), then watching the first 15-20 minutes to take note of opening credit information, overall condition of the film, and general plot information. Nobody knows what to expect and whether a film will be fun or a dud. After the mystery selections are played, the audience will vote for their favorite with the winning title screened at 11 pm. Tickets for the evening feature are $3 with proceeds going to AFGA.
As part of the monthly series "A Decade of Comedy in Latin American Cinema," Cine Las Americas presents a free screening of the Chilean comedy drama Ilusiones Opticas (Optical Illusions) on Wednesday at 8 pm at the Emma S. Barrientos Mexican American Cultural Center (MACC). A group of characters attempt to deal with disappointments and setbacks, under the shadow of a corporate culture based on the privatization of the state health-care system.
Cine Las Americas and aGLIFF Polari co-present Joven and Y Alocada (Young and Wild) at Alamo Village on Sunday at 1 pm. Inspired by director Marialy Rivas' own life and the blog she wrote as a teenager, this film reveals a 17-year-old's self-discovery of sex while growing up in an evangelical household.
This week's Austin Film Society Essential Cinema offering is For My Father (Sof Shavua B'Tel Aviv). Directed by Dror Zahavi and co-written by Ido and Jonatan Dror, this joint German/Israeli production examines the personality behind a Palestinian suicide bomber. For My Father screens Tuesday at 7 pm at Alamo Village.
Movies We've Seen
Snitch -- Publicized as being inspired by true events, this action thriller stars Dwayne "The Rock" Johnson as a DEA agent who goes undercover to free his wrongly imprisoned son. J.C. says, "Snitch has a great performance from Johnson in an otherwise underwhelming movie. Fans of The Rock might be interested to see him play a sensitive dad and just a regular guy, but that's about the only interesting thing about Snitch." Look for his review this weekend. (wide)
John Dies at the End -- Writer/director Don Coscarelli delivers a dark comedy about a silent alien invasion fuleed by a new street drug that not only sends its users through time and space but also changes them. Mike says, "John Dies at the End is a cult superstar in the making with a rich mythology drawn from diverse supernatural cultures, lovable characters, and a time-twisting plot that never rests." Read more in his review. (Alamo Slaughter)
Only the Young -- Co-directed by Austin filmmaker Elizabeth Mims, this documentary focuses on three Southern California teenagers who fill their time with skateboarding and church. In her AFF review, Elizabeth said, "Only the Young is gorgeously shot and plays like a narrative film." (Violet Crown Cinema)
Other Movies Opening in Austin
Bless Me, Ultima -- Based on the novel by Rudolfo Anaya, this WWII period drama portrays the interactions between an elderly medicine woman and a young man who seeks her help in dealing with "the battle between good and evil that rages in his village." (Gateway 16 and local Cinemark Theatres)
Dark Skies -- Starring Keri Russell (Austenland, Leaves of Grass), a suburban family experiences a series of disturbing events as "they come to learn that a terrifying and deadly force is after them." (wide)