Review: John Dies at the End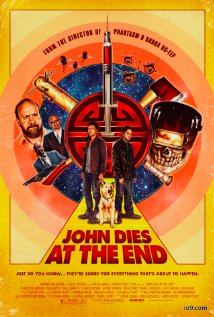 Don Coscarelli has two successful cult franchises to his name in Phantasm and Beastmaster. The announcement of Bubba Nosferatu, sequel to 2002's Bubba Ho-Tep, makes that three ... so why not go for a fourth? The writer/director purchased rights to John Dies at the End, itself a cult web serial by author David Wong, first released online in 2001. The resulting film, opening Friday at Alamo Drafthouse on Slaughter, is arguably the best work Coscarelli's ever done.
Coscarelli's screenplay is smart, fast-paced and exciting, full of razor-sharp wit delivered first-person by star Chase Williamson. The story incorporates many important elements from the book while changing various details, sometimes for practical reasons. (Fans of the book will note the name and sex of the dog Molly have changed.)
A worthy modern-day successor to Ghostbusters, the movie John Dies at the End follows Dave and his friend John (Rob Mayes), paranormal investigators who derive their powers from the use of a mysterious otherworldly substance they call "soy sauce."
When under the influence of "the sauce," they experience various strange effects including telepathy, precognition and others for which there is no proper name. Forces beyond their control pull them into a battle to save the world. They're assisted by the alien Roger North (Doug Jones) and psychic superstar Dr. Albert Marconi (Clancy Brown). Paul Giamatti rounds out the fantastic cast as the reporter Arnie Blondestone.
Coscarelli's team does superb work with practical effects, rivalling much larger budget films and giving John Dies at the End a timeless quality akin to the original Evil Dead. People who have read the source book already know, as people are discovering through the movie, that John Dies at the End is a cult superstar in the making with a rich mythology drawn from diverse supernatural cultures, lovable characters, and a time-twisting plot that never rests. The movie is highly recommended for people who like to have fun at the cinema.