Movies This Week: February 15-21, 2013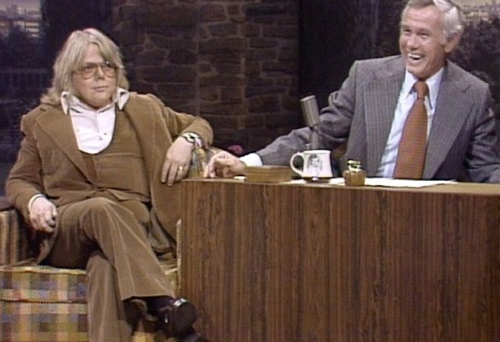 In the interest of brevity, I'll ignore this week's new releases (helpful hint: you should, too!) and go straight to the impressive lineup of special screenings.
Few film franchises are more impressive than Michael Apted's Up documentary series. Debuting in 1964 with Seven Up, which introduced viewers to 14 British 7-year-olds, the groundbreaking series has followed the progression of their lives with a new movie every seven years. They're now 56, and the latest installment, 56 Up, is screening Monday and Tuesday at the Stateside to kick off the new Stateside Independent film series.
Film fans old enough to remember the Seventies (and younger fans who, for reasons not well understood, think the Seventies were cool) shouldn't miss Paul Williams Still Alive (pictured above), Stephen Kessler's acclaimed documentary about the songwriter and pop cultural icon's phenomenal career and difficult personal life. Paul Williams Still Alive screens on Monday (and also on Saturday, February 23) at the Alamo Drafthouse Ritz. Read Mike's thoughts on it from SXSW 2012.
Cine Las Americas continues its Latin American comedy series with 25 Watts, the story of a weekend in the lives of three suburban Montevideo slackers. The three men make an art of doing not much of anything in this 2001 Uruguayan film. 25 Watts screens for free at the Emma S. Barrientos Mexican American Cultural Center on Wednesday.
As always, the Austin Film Society's Essential Cinema series offers something unusual: the Iranian import This Is Not a Film, a riveting 24-hour portrait of renowned filmmaker Jafar Panahi, who for 20 years has circumvented the Iranian government's ban on his making films. AFS presents This Is Not a Film on Tuesday at the Alamo Drafthouse Village.
Movies We've Seen
Beautiful Creatures -- In this fantasy romance, a young man in a small Southern town meets a witch, and together they uncover dark secrets about their families and their town. Is this story bewitching enough be the next Twilight? Only if the film's target audience is looking for unintentional laughs, according to Elizabeth. As she says in her review, "When it's not accidentally humorous, Beautiful Creatures is wonderfully cheesy. There is a lack of subtlety here, and most of the actors seem to be dead serious about their roles." (wide)
A Good Day to Die Hard -- The latest Die Hard installment has John McClane helping his seemingly wayward son in Russia. When McClane discovers his son is a CIA operative working to foil a nuclear weapons heist, the two team up to save the world. J.C. has mixed feelings about the film, saying in his review that A Good Day to Die Hard "is at times pretty fun to watch. It's not a very good Die Hard film though, because those films bring so much quality to the table that to see it diminished here is kind of heartbreaking." (wide)
Safe Haven -- The eighth (and, sadly, probably not the last) film based on a Nicholas Sparks romance novel, Safe Haven is the story of a young woman with a mysterious past (no, really?) whose relationship with a widower forces her to deal with a dark secret. I'm guessing there is some kissing and crying and other icky stuff, along with pretty sunsets and prettier people. Then again, not everyone is as cynical as I am; in his review, J.C. calls Safe Haven "a charming romantic story that both women and men might enjoy." (wide)
Other Movies Opening in Austin
Escape from Planet Earth -- This 3D animated film features an astronaut caught in a trap after responding to an SOS from a dangerous planet. (wide)
Special 26 (Special Chabbis) -- Based on real events in the 1980s, this Bollywood thriller focuses on Mumbai con artists who robbed famous businessmen and politicians by pretending to be income tax officers. (Tinseltown South)