Stateside Independent Series Kicks Off with '56 Up'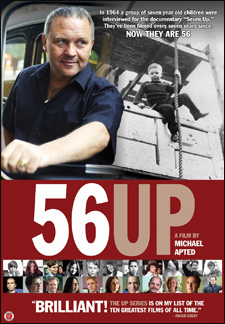 Last week a new program was announced at Stateside at Paramount Theatre (formerly known as the State). "Stateside Independent" will screen a different independent film -- festival fare, documentaries, local premieres, etc. -- each Monday night.
In his blog entry on the Paramount website, programmer Stephen Jannise said, "I couldn't be more excited about providing a fresh new platform for independent filmmakers to showcase their work, and my greatest hope is that this series proves to be a valuable addition for the growing community of Austin film lovers."
The first movie will show on Monday, Feb. 18 and Tuesday, Feb. 19. Director Michael Apted's 56 Up is the 2012 update to the series he began in 1964 with Seven Up! Every seven years he checks in with the children he met while making that original 30-minute TV special.
The 1964 film included British kids from different class backgrounds. It's been 48 years since that special. How have the lives of those people -- now in late middle-age -- evolved? If you've been keeping up with the series (49 Up came out in 2005), you may have some idea of the trajectory their lives have taken, but there's likely to be some surprises here.
The following Monday, February 25, Stateside will host the Austin premiere of the Texas-shot indie film Far Marfa, co-hosting with the Texas Independent Film Network. Writer/director Cory Van Dyke is scheduled to attend. The movie received a Texas Filmmakers' Production Fund grant in 2011. Look for Debbie's preview next week.
You can read more about Stateside at Paramount's new program and critical reception of 56 Up on the Paramount's blog. Watch the 56 Up trailer below: