Sundance 2013: Debbie's Must-See List
I'm looking forward to seeing up close how the Lone Star Films will shine at Sundance 2013. If last week's press preview at the Austin Film Society Screening Room is any indication, audiences will not be disappointed, especially with Pit Stop and Black Metal. Filmmaker Yen Tan's story in Pit Stop comes from his curiosity while on road trips between Dallas and Houston, wondering whether gay people lived in the small towns along the route. His research led to a story of individuals who live their lives normally in rural environments, and the preview I saw of a few dramatic scenes was thought-provoking.
Another thought-provoking film was Kat Candler's Black Metal -- check back for a full review on Friday as well as info about how you can see it even if you're not in Park City. Black Metal shows tragedy rarely seen, of how blame laid on multimedia -- music, horror films, shooter video games -- can affect the creators as well. I spoke with lead actor Jonny Mars and writer/director Kat Candler about their short film as well as Sundance 2013 projects, including the development of Candler's Sundance 2012 short Hellion as a feature through the Sundance Feature Film Creative Producing Lab for creative producer Kelly Williams. Mars credits the genius and unique approach of Candler for directing the "little humans" of Hellion and Black Metal.
I'll be in Park City for the next 10 days, covering the red carpet for the major features from Texas filmmakers including Jeff Nichols' Mud and Before Midnight, as well as premieres for any Austin film that my and the shuttle schedule will allow. I'm also planning to see many, many movies. Here are some of the features and documentaries I'm especially looking forward to viewing.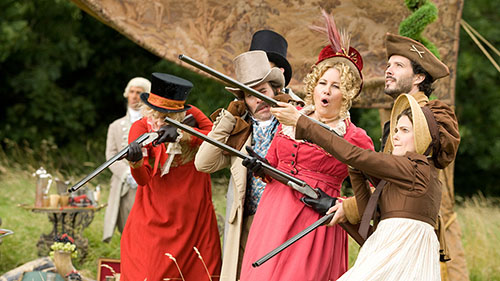 Austenland (pictured above) -- Jane (Keri Russell) is obsessed with all things Jane Austen, so she travels to the theme park Austenland where she can be immersed. Even though her limited funds leave her in the servants quarters, she's still in search of romantic love. I'm especially looking forward to the wickedly humorous Jennifer Coolidge as Miss Elizabeth Charming. Written and directed by Jerusha Hess, who co-wrote Napoleon Dynamite.
Cutie and the Boxer -- This documentary provides an intimate view of the often chaotic 40-year-old love and life of Japanese artists Ushio and Noriko Shinohara, who have varying success in their pursuits. Zachary Heinzerling makes his directorial debut by using archival footage as well as animated sequences of Noriko's drawings.
Google and The World Brain -- This film addresses the controversial topic of free access to printed word and copyright limitations, and how Google may be overstepping their archival role. I expect a heated debate with the recent PDF tribute to Aaron Swartz, which resulted in open access to over 1500 copyright-protected research papers.
The Machine Which Makes Everything Disappear --This cinematic portrait of individuals in the country of Georgia is composed of raw interviews in which hopes and dreams are shared.
Pussy Riot - A Punk Prayer -- British filmmaker Mike Lerner (Afghan Star) and Russian filmmaker Maxim Pozdorovkin capture the story of the the women of Pussy Riot, who were imprisoned for their satirical performance at a cathedral in Moscow. Their story sparked an international response to their human-rights abuse.
Sound City -- Foo Fighters and Nirvana's Dave Grohl brought together music icons Stevie Nicks, Neil Young, Tom Petty, Trent Reznor, Rick Springfield and Paul McCartney for a jam and created a brand-new album on the revered soundboard at Sound City, a remnant of the analog age of music recording. I'll keep my fingers crossed for seeing a live performance at Sundance as well.
The Spectacular Now -- An adaptation of Tim Tharp's novel, The Spectacular Now stars Miles Teller and Shailene Woodley as "party in the moment" Sutter and careful planner Aimee, who are drawn together. Written by (500) Days of Summer screenwriters Scott Neustadter and Michael H. Weber and directed by James Ponsoldt (Smashed), the film also features now-Austinite Kyle Chandler.
Editor's Note: Debbie Cerda and Chale Nafus will be covering the Sundance Film Festival from Park City for Slackerwood. Check back soon for their dispatches, reviews and photos.