TV Ad Contest Wants Your Vision of Austin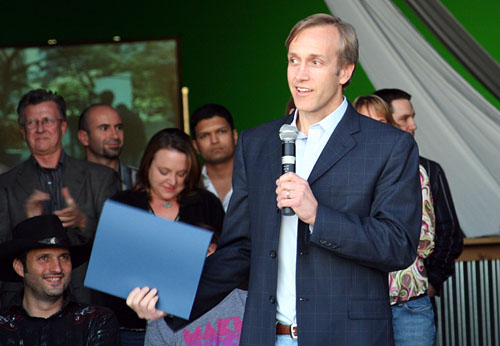 Last week, at the Austin Studios party, city councilmember and mayoral candidate Brewster McCracken hinted he'd make a special announcement soon that would involve the two filmmakers sitting behind him, Robert Rodriguez and Richard Linklater. So this week, he unveiled the "Your City - Your Vision - Your Ad" competition.
If you live in Travis County, you can submit a 25-second television ad that shows your vision for the future of Austin. The entries will be judged by a panel that includes Rodriguez and Linklater, Richard Garriott, and Elizabeth Avellan. The winner's ad will be broadcast in April on Comedy Central (as a local ad only), during The Daily Show and The Colbert Report.
The situation behind the competition is tricky: it's being sponsored and funded by McCracken's mayoral campaign, and they'll add the usual campaign-ad disclaimers to the winning film. However, the films are not supposed to be campaign advertisements -- the campaign website calls it "a creative competition" -- and you can't mention any of the candidates for mayor in your submission.
No matter who you're backing for mayor, this is a nifty way to get your work seen by some of Austin's bigger-name filmmaking and producing talent. The deadline for submissions is March 20. In my house, we watch The Daily Show on Hulu; if McCracken's got some extra campaign funds, it would be super-cool to also buy a Hulu ad slot or two for those shows in April.
Edited to add: The Austin Chronicle website has video from McCracken's announcement, which took place at Troublemaker Studios (I'm envious).
The photo at the top of this entry is McCracken at the Austin Studios ribbon-cutting -- unfortunately, he was moving around right in front of Rodriguez and Linklater and I couldn't get a photo with all three of them. So I'm adding the photo below from the Austin Studios "Yes on Prop. 4" party in 2006, where you can see McCracken and Linklater along with councilmember Mike Martinez and Elizabeth Avellan. (This is my favorite Avellan photo, though.)