Quick Snaps: Austin Studios Re-Opening Party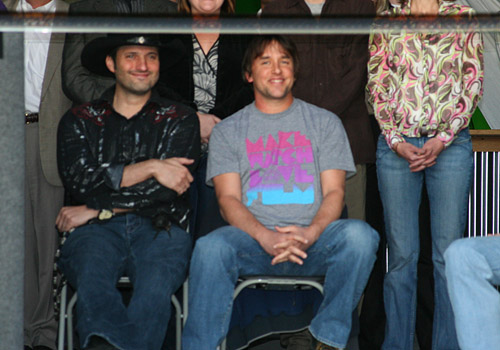 Last night, Austin Studios threw a big bash to celebrate the grand re-opening of their newly renovated facilities. The party started with a ribbon-cutting and christening ceremony for one of the redone studios.
Rebecca Campbell, executive director of Austin Film Society, started things off with some details about the renovations, but all eyes were on the two guys who would be performing the ribbon-cutting: Robert Rodriguez and Richard Linklater. Well, some eyes were off to the right to notice local actress Dana Wheeler-Nicholson (Friday Night Lights), who sat next to Austin City Council member Brewster McCracken. (She's not in the photo below, but look for her in her leopard-print coat in subsequent photos.)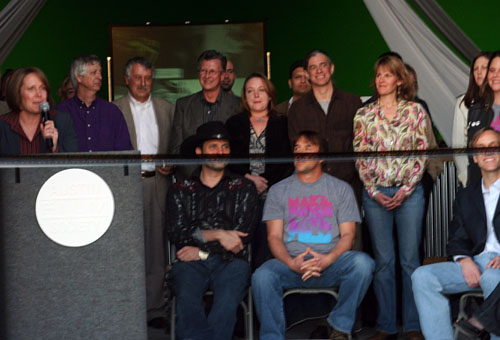 Rodriguez and Linklater enjoyed the opening remarks while waiting for their big moment.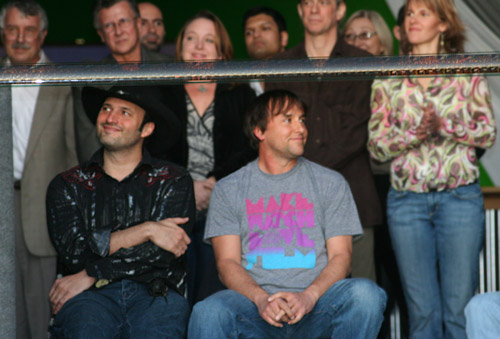 After a few minutes, the two filmmakers were given a huge pair of shears to cut the "ribbon," which was actually a long strip of film: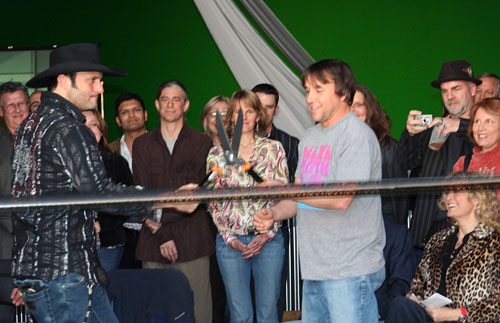 Success!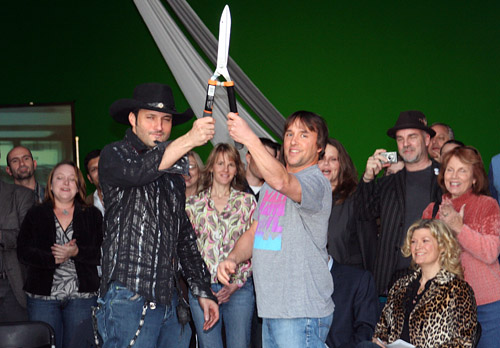 Campbell then thanked all the staff and contractors who contributed to the success of the renovation. Aftewards, Dana Wheeler-Nicholson christened the renovated studio -- it had been Studio 1, but would now be Stage 3 -- by smashing a bottle on it: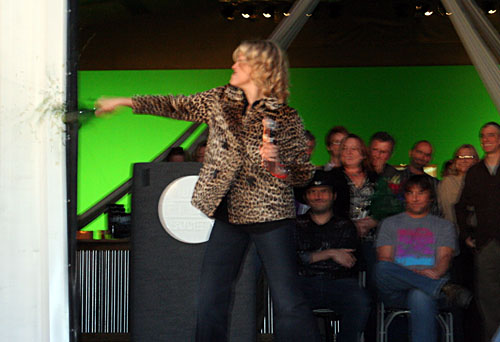 After the christening, everyone poured into the studio for the party. Rodriguez was immediately swarmed with young filmmakers and finally managed to vanish -- Linklater stayed around a bit longer. But I did get one photo of them together at the party:
If you want more information about the event, KVUE has an article and some video footage. So does KXAN, although they unfortunately refer to AFS as "Texas Film Society."
I have a full set of photos from the evening on Flickr.
I also recommend reading a pair of stories that Chris Garcia wrote for the Austin American-Statesman earlier in the week: a detailed story about the renovations and how they were funded, and an entertaining history of Austin Studios.