Ready, Set, Fund: Texas Two-Step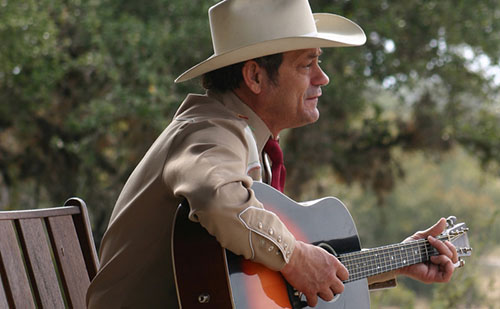 Ready, Set, Fund is a column about crowdfunding and related fundraising endeavors for Austin and Texas independent film projects.
This month is full of worthy film projects that are fundraising for all stages of production, with last month's Ready, Set, Fund spotlight project and documentary Merch Girl exceeding its goal of $30K before it ends on Thursday. A couple other upcoming film productions also portray Austin's diverse musical culture, including Thank You A Lot, which was featured in a recent Slackerwood photo essay. This film, which is funding through Wednesday, August 29, features local and legendary artists including James "Slim" Hand in the tale of a two-bit music agent whose job depends on being able to sign his reclusive, legendary father.
Another film project that embraces music is Dance Like No One's Watching from former Austin filmmaker Jenn Garrison (Prize Whores, Greg). While writing a feature script (Quick Quick Slow) that's set in a gay country western bar in Texas, Garrision discovered The International Association of Gay/Lesbian Country Western Dance Clubs (IAGLCWDC, or "Iggle Wiggle" as they call themselves). Garrison traveled back to Austin from Los Angeles to film research footage for her feature at the annual International Dance Competition. Her extra footage is the basis for this documentary portraying the dynamic and enthusiastic community that participates in same-sex dance competitions, and the freedom and independence this culture evokes.
Check out the teaser for Dance Like No One's Watching after the jump.
Shane Hazen, a former Artists Services apprentice for Austin Film Society, is making his feature-directing debut with Here/There/Now/Year Ago, which is funding through Thursday, August 30, on Indiegogo. Hazen is an editor on the upcoming Terrence Malick film To the Wonder and also worked in the editorial department for Malick's The Tree of Life. Here/There/Now/Year Ago spends a night following two characters, Chris and Holly, who've recently moved alone from their respective hometowns to Austin, full of ambition and hope in their new town. Holly wants to put all her energy into a burdgeoning standup career, Chris just wants to make new friends. When the two finally meet, their connection is threatened by their intruding memories of the nights they decided to leave their mutual hometowns and who they think they are and will continue to be.
Other film projects currently funding this month:
Cloud Catchers -- The latest animated short film from Lucas Martell, writer/director of the Fantastic Fest/Austin Film Festival selection Pigeon: Impossible (which you can watch online). This futuristic story is about a pilot who fights against "sky pirates" for control over the clouds -- the last remaining source of water. Like the video examples and podcast tutorials that came from his first project, Martell is creating a video series for Cloud Catchers to share the tips and tricks of independent animation filmmaking. (Kickstarter, ends Friday, August 31)
I Came Back -- The story focuses on 18-year-old Nathan Crowley, who becomes a zombie after his death in a drunk-driving accident. Nathan searches for the reason for his reanimation. (Indiegogo, ends Thursday, September 13)
A Perfect Cocktail -- A short film about appearances, relationships, and expectations, using "cocktail" as a metaphor for a mixing of elements. This film attempts to dispel stereotypes "where assumptions may not be trustworthy." Written and produced by Kathy Swift Albert and directed by Sushma Khadepaun-Parmar. (Indiegogo, ends Friday, September 14)
The Roadtrip -- Written and directed by Isaiah Mancha, this short independent horror film is about three amateur photographers and what transpires after they stumble across a grisly scene in the dry, unforgiving west Texas landscape. Familiar faces include Briana McKeague (The Grownups) and Alamo Drafthouse server-turned actor/editor Mattias Marasigan. (Kickstarter, ends Friday, September 21)
The Rule of Thirds -- This film portrays the interaction between a young fashion photographer and her roommates. Writer/director Anne Wolfe-Andersen presents an everyday story about a transgendered woman and how she helps her tomboy friend. The film focuses on "the spectrum of womanhood and gender identity in a way that everyone can relate to." (Indiegogo, ends Thursday, September 13)
Static -- A short film about a family near the breaking point, with a mother who struggles with the challenge of raising two sons including angry 16-year-old Travis and ten-year-old Ethan who idolizes his older brother. However, Travis has a secret that threatens to destroy their family. Starring Deke Garner (Hellion), Kole Collins Coward (Steal Away) and Leslie Langee (Jumping Off Bridges, Submerged), who also wrote and directed the film. (Indiegogo, ends Friday, September 14)
Summer League -- From the husband and wife filmmaking team of Kelli Horan (writer) and Lex Lybrand (director), and producer Carrie Evans, this film is about a shared love of baseball, movies, baseball movies, friendship, family and rivalry. When Allie returns home during her final college summer break, she's forced to stay due to a death in the family. In an effort to overcome her grief, she joins her local coed softball team The Browncoats, where she encounters even more drama. (Indiegogo, ends Tuesday, August 28)
Have a project that you would like to be considered for an upcoming "Ready, Set, Fund," feature about crowdfunding and related fundraising endeavors for Austin and Texas independent film projects? Contact us with subject line "Ready, Set, Fund" if you've got a film fundraising project going on you'd like us to know about.