Ready, Set, Fund: Bienvenido a Tejas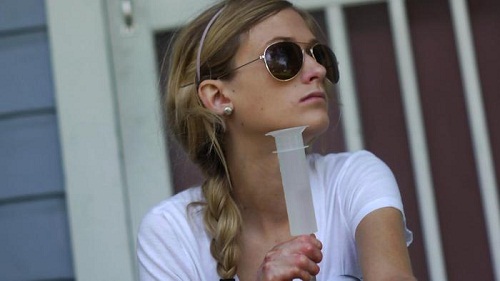 "Ready, Set, Fund," is a column about crowdfunding and related fundraising endeavors for Austin and Texas independent film projects.
As the "Live Music Capital of the World," Austin has no shortage of musicians onstage nightly in live music venues, whether it be a jazz lounge, rock club or country/western bar. Often bands can make as much if not more on merchandise sales than on the take from the door, especially if they have extra help behind the merch table. Texas honky-tonk musician John Evans relies on his 18-year-old daughter Abbie (seen above) to fill that role, especially on the road -- despite the challenges as Abbie suffers from the incurable and often painful skin disease epidermolysis bullosa.
Director/producer Cary Bell and editor/producer Jessica Miller document Abbie's coming of age as a self-confident and passionate young woman in Merch Girl, which is currently funding through Thursday, August 23 on Kickstarter. Abbie treats EB as just another hurdle, with support from her family including constant care from her mother. Funds were raised in a previous campaign for the production phase of this film project, but additional contributions are needed for post-production including editing, color correction, audio mixing, and mastering.
The ATX Television Festival had a successful first year last month, and is already working on funding for 2012 with their ATX Television Festival: Year 2 Kickoff campaign on Kickstarter. The project has met their initial goal well in advance of their Wednesday, July 25 deadline, but has set a new goal. For those unfamiliar with ATX, this festival provides an opportunity for attendees to interact with actors, writers, directors, music supervisors and several other industry professionals involved in all stages of bringing their favorite series to the small screen.
Artist Foundation of San Antonio Individual Award winner Michael Menchaca is seeking funds through Thursday, August 2, on USA Projects for his animated film, The Codex Migratus Animatus. This narrative, based on current events along the U.S.-Mexican border, tells its story through the use of an ancient codex based on Mesoamerican manuscripts that connect humans to their fates ... but in this case the humans are represented as cats. Each animal in the Codex Migratus personifies a real-life participant from the issues of migration, drug cartels and more to give viewers a new context for framing these current events.
Another film project set in rural Mexico is funding this month on Indiegogo through Thursday August 16. Esta Vida tells the story of Maria, a young rebellious girl who learns from her unconventional grandmother that real revolt is being yourself. After being left behind when her mother and two older sisters went to work in America, she must learn to adjust to living alone with her grandmother. The movie will be shot on 16mm film and is entirely in Spanish (with English subtitles), using organic sounds without music.
Esta Vida writer/director/producer Rachel Francis is a London and Dallas-based artist who grew up in Texas, and University of Texas radio-TV-film graduate and producer Rolando Alonzo R. has worked at Troublemaker Studios/ EYA productions since January 2011 including the productions of Spy Kids 4 (2011) and When Angels Sing (2012). Cinematographer E.J. Enriquez is from El Paso -- his credits include shooting the feature film Big Boy, as well as second unit for Kat Candler's short film Hellion and additional photography for Andrew Bujalski's upcoming movie Computer Chess.
Other film projects currently funding this month:
Blood Guilt -- What if a man came upon another man hanging in a tree, fighting for life and declaring his innocence -- what would he do? And what role could Sage, a seven-year-old girl, possibly have in both men's lives? (Kickstarter, ends Sunday, July 29)
Boxer Story -- This short animated film centers around an up-and-coming boxer in 1974 New Orleans, 1974, and his upcoming bout in the ring with reigning cruiserweight champion and prima donna Thunderpaws Magee. (Kickstarter, ends Friday, August 10)
Easy -- A semi-autobiographical story about siblings with a no excuses portrait of their dynamic. In Easy, viewers see an example of "what happens when the lives of a disconnected family collide or, more likely, barely miss colliding in favor of a scratch." (USA Projects, ends Monday, July 23)
In the Trenches -- This documentary chronicles the 27-year history of Christian metal band Bloodgood, starting from the band's 1985 debut cassette demo and leading to their first record deal and self-titled debut album. Multiple U.S. and European tours, three subsequent studio records, eight live releases, and numerous compilation albums including platinum sales earned Bloodgood recognition as the founding fathers of "Christian Metal" and their induction into the Christian Music Hall of Fame. (Kickstarter, ends Friday, July 27)
The Taiwan Oyster -- After the tragic death of a newly arrived ex-pat, ESL kindergarten teachers Simon and Darin steal the corpse in order to perform the final rites for the fallen stranger. Production of The Taiwan Oyster began in 2010 with a large part of their funds coming a successful Kickstarter campaign. Since then, the filmmakers have shot on location in Taiwan, cut, scored, soundtracked and mastered the entire film and had the film's world premiere at SXSW 2912. The filmmakers now seek funds to secure full rights to all the music in the film, with any extra funds to be used for their film festival budget. (Kickstarter, ends Wednesday, August 22)
The Austin Film Society spotlights some of the AFS filmmakers and Texas Film Production Fund grant recipients on Kickstarter, which you can check out
here
.
Have a project that you would like to be considered for an upcoming "Ready, Set, Fund," feature about crowdfunding and related fundraising endeavors for Austin and Texas independent film projects? Contact us if you've got a film fundraising project going on you'd like us to know about.