Ready, Set, Fund: Labor, Gourds, Retirees and Free Radicals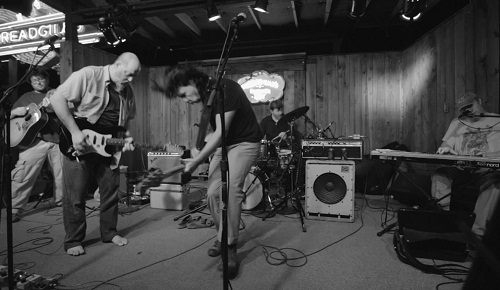 "Ready, Set, Fund" is a column about crowdfunding and related fundraising endeavors for Austin and Texas independent film projects.
It's only natural that talented acquaintances in the local music scene like Britt Daniel of Spoon or Ian Moore have achieved national recognition for their musical talent. Another success story is that of one of the hardest working bands I've ever known, The Gourds, comprised of Kevin Russell, Keith Langford, Max Johnston, Jimmy Smith and Claude Bernard. In addition to routinely playing at Shady Grove and Threadgill's South, or touring nationally, the Gourds also contributed music to a local short film, Mike Woolf's 2003 documentary Growin' a Beard.
The Gourds themselves are now the subject of All the Labor, a documentary currently funding through Monday, June 11, on Kickstarter. Filmmaker Doug Hawes-Davis is the founder of the annual Big Sky Documentary Film Festival in Missoula, Montana, where he initially met the band in 2001. The Gourds played Missoula nearly a dozen times in the last decade and Hawes-Davis attended every show, allowing him the opportunity to meet and convince the band to participate in a film documenting their story.
Mike Woolf is one of the cinematographers providing support in Austin on the film project. Another interesting local connection is that Hawes-Davis' nonprofit was the fiscal sponsor of Winter in the Blood, a new film by Alex and Andrew Smith (The Slaughter Rule) -- Alex teaches at UT while Andrew teaches at the University of Montana. Winter in the Blood had a successful Kickstarter campaign last year.
Find out about more local film-related crowdfunding efforts after the jump.
Local filmmaker/cinematographer PJ Raval is seeking funding through Monday, May 28, for an unnamed documentary film focusing on gay retirees as they navigate through their golden years. According to research conducted by the Williams Institute at the University of California Los Angeles, "there are an estimated 2.4 million lesbian, gay or bisexual Americans over the age of 55. LGBTQ seniors are five times less likely to access social services than their heterosexual counterparts, half as likely to have health insurance coverage, twice as likely as straights to live alone, and 10 times less likely to have a caretaker should they fall ill." Raval's film project humanizes these statistics -- a very timely and critical subject considering the current focus on lesbian, gay, bisexual and transgender rights in the United States.
The Church of the Friendly Ghost is funding its fourth annual New Media Art and Sound Summit (NMASS) through a Kickstarter project through Thursday, May 31. This four-day event runs from Thursday, June 14 through Sunday, June 17, featuring art installations, workshops, video and film as well as a dance party. Video art from Sam Sanford and Rebecca Carlisle-Healy, projections by Sandy Ewen, videos by Paul Baker, films by Experimental Response Cinema. Specifically for the summit, filmmaker Jeanne Stern is creating a "surf music re-interpretations" cycle that combines visual artists with musical ensembles.
Also at NMASS, Brooklyn-based artist and filmmaker Steve Cossman, whose work incorporates Super 8 and 16 mm, will present a program of experimental animation featuring a rare 16mm print of Len Lye's 1958 classic Free Radicals. Lye reduced the medium to its most basic elements by directly scratching black film using a variety of tools ranging from dental picks to Native American arrowheads. Free Radicals features the synchronization of singing and rhythmic drumming of the African Bagirmi tribe with a mesmerizing pattern of flashing lines and zigzags. Watch Free Radicals below:
Other local film-related projects running crowdfunding campaigns this month:
Not all crowdfunding projects meet their goals. Ricinus Communis, which was featured in the April edition of "Ready, Set, Fund" is still funding through May 26, having raised less than $4,000 with a funding goal of $480,000. This project is an example of how not to succeed in a crowdfunding project -- over-reaching goals, minimal updates from the filmmakers, and no engagement of backers.
I've observed that the most successful crowdfunding projects are those that set more reasonable financial goals or stage their production costs into multiple crowdfunding projects -- at the very least, one for equipment and filming, and another for post-production including film festival entry costs and travel. Engaging fans through both Kickstarter and social media is an effective way to drive financial support from friends and fans.
Have a project that you would like to be considered for an upcoming "Ready, Set, Fund," feature about crowdfunding and related fundraising endeavors for Austin and Texas independent film projects? Contact us if you've got a film fundraising project going on you'd like us to know about.