Ready, Set, Fund: A Force in Nature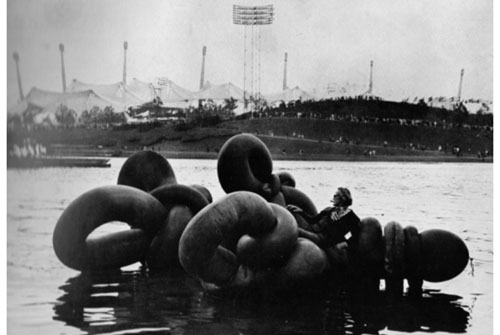 "Ready, Set, Fund," is a column about crowdfunding and related fundraising endeavors for Austin and Texas independent film projects.
While volunteering a few years ago at SCARE for a CURE, a local nonprofit interactive haunted adventure, I was impressed by the talent, dedication and enthusiasm brought to our team by students from The Art Institute of Austin (AI). The culmination of countless hours from initial concept to the final production of their art design, have contributed significantly to the continued success of SCARE.
Several of the AI students I befriended through the SCARE community project have taken on other creative endeavors, most notably AI's Eric Stewart and Anton Curley's documentary project, Nemesis Rising, which has followed local multimedia performance troupe The Intergalactic Nemesis on their national tour. Producer Stewart has another potential film project should it reach its funding goal, the documentary A Force In Nature (seen above), which is six years in the making and over 80% complete. AI instructor and filmmaker Hayden Yates is producing, directing, and has handled most of the cinematography which focuses on octogenarian Icelandic sculptor Jóhann Eyfells who set up his studio in Fredericksburg, Texas in 2003. The remaining filming will be done in Iceland in June with post-production in Austin including editing by Vishwanand Shetti and Ian Candler.
Find out more about other local film projects seeking funding -- including Jonny Mars' America's Parking Lot, which debuted at SXSW Film Festival last month -- after the jump: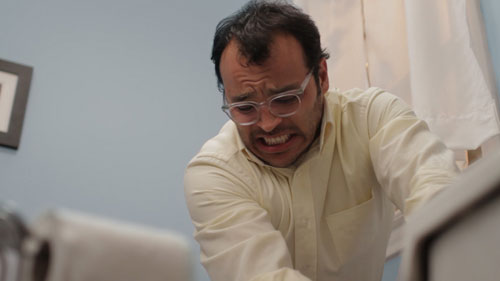 Jonny Mars' documentary America's Parking Lot is raising funds for its final production costs, including color correction and audio mixing, as well as promotional needs on the America's Parking Lot Indiegogo page through Monday, April 23. Be sure to check out Don's review of this documentary -- I'm in complete agreement that although I could typically care less about football, this engaging film provides insight into one of the most passionate subcultures in America and is well worth watching.
One of the short films that our curating team had to cut due to time restraints from this year's AFS ShortCase community screening at SXSW was local filmmaker Steven DeGennaro's short film First Date, seen above. We agreed that this genre-bending dark comedy short definitely has its place in a festival such as Fantastic Fest due to the horror aspect, but DeGennaro had no trouble getting the film into the 11th annual Los Angeles Comedy Festival, the largest comedy festival in the United States. Now he is seeking funding through Tuesday, April 24, on the First Date Indiegogo page for promotional materials and travel expenses.
Other local film related projects funding this month:
All That Remains -- Written and directed by Bosnian-born Marko Slavnic, this feature film is about two brothers, Tarik and Mirza, who are brought by their parents to the States as kids to escape the war in Bosnia. The war took an emotional toll on the family, especially as their father self-destructive depression drives a wedge between him and the oldest son, Mirza, who leaves their home. The estranged brothers reunite to fulfill their father's final wishes -- to have his ashes scattered in his home country. (Kickstarter, ends Thursday, May 10)
The Book of Joe -- Directed by filmmaker Mario Pena (Cherry Pie) this action/sci-fi short film pits Joe, an everyday man from South Texas, against Death, an Angel and even Jesus himself in an apocalyptic battle for the future of Earth. Not the typical Biblical tale, as the Rapture is discovered to actually be a front for an alien invasion. (Kickstarter, ends Monday, May 14)
Breaking the Curse -- A short film about two guys trying to regain their mojo with women by embarking on a journey involving a Russian love doctor, gypsies and a jazz man. (Kickstarter, ends Tuesday, May 22)
Cannes You Help Us? -- Austin filmmaker Mario Troncoso was surprised to hear in late March that his short film Clowns Never Lie was accepted to Short Film Corner/Court Metrage of the 2012 Festival de Cannes -- mostly because it was not the film that he'd originally intended to send to Cannes. Find out more on the backstory in Marc Savlov's "Sad Clown Makes for Happy Filmmaker" in the Austin Chronicle. The filmmaking team's is solicting funds to travel to the festival where their main mission will be to network and help promote their next feature film project, Bring Back The Guns, an independent surreal thriller set to shoot in El Paso, Texas. (Indiegogo, ends April 25)
Formosa, Texas -- Director Roy Rutngamlug brings his perspective of having grown up in a small town as the son of immigrants to the story of Lon, a first generation Asian-American growing up in a small outpost town helping his mother run the family diner. Lon seeks an opportunity to make a more personal connection with stranded strangers, pitting one against the other in a clash of culture, generations and family.(Kickstarter, ends Tuesday, May 15)
Mahogany Sunrise -- A romantic action drama about a downhearted IT guy named Jackson who longs to be a musician. After stumbling across a duffel bag full of money and falling for Mercedes, a charismatic burlesque dancer, he thinks he has it made -- until hitmen come after him to reclaim their money. (Kickstarter, ends Saturday, April 21)
Ricinus Communis -- One of the strangest and most ambitious film-related crowdfunding projects that I've seen, with a goal of $480,000. This funding is for the first film in a series, each featuring one of the deadly sins. (Kickstarter, ends May 26)
Underground -- Former U.S. Army soldier Marcus Marshall is now an indie filmmaker and screenwriter, and this is his feature film to showcase Jeet Kune Do. One of his goals is to create greater awareness of Jeet Kune Do founder and creator Bruce Lee. (Kickstarter, ends Saturday, May 5)
A couple of noteworthy film-related projects that have met their goals but are worth consideration to fund in their support of filmmaking include the summer production and operations of the UT student organization Women in Cinema (Indiegogo, ends May 1) and a documentary project by Del Valle Middle School Film Club (Kickstarter, ends May 3).
Have a project that you would like to be considered for an upcoming "Ready, Set, Fund," feature about crowdfunding and related fundraising endeavors for Austin and Texas independent film projects? Contact us if you've got a film fundraising project going on you'd like us to know about.