Lone Star Cinema: Waiting for Guffman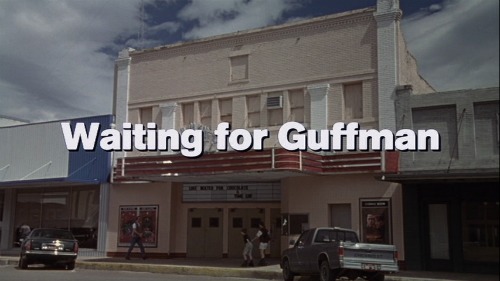 [Editor's Note: Lone Star Cinema is a new series in which we look at Austin and Texas-shot/set movies that are available on DVD, Blu-ray, or online. Lockhart seemed like a great place to start.]
Christopher Guest has gathered quite a following through his trilogy of mockumentaries, starting with 1996's Waiting for Guffman and following with 2000's Best in Show and 2003's A Mighty Wind. Let's just forget that For Your Consideration ever happened, shall we?) I missed Waiting for Guffman in the theatres; the first time I watched it was with friends in a college dorm room, as we rolled on the floor, laughing.
For the 1996 film, Guest chose to film in Lockhart, Texas because it added a small-town feel. Waiting for Guffman opens to scenes of Lockhart's courtyard square, but the movie is based in fictional Blaine, Missouri, aka "The Stool Capitol of the World." Blaine is celebrating its sesquicentennial, and the city council has asked resident auteur Corky St. Clair (Guest) to direct a play to mark the occasion. He and music director Lloyd Miller (Bob Balaban) hold auditions; Austinite Turk Pipkin shows up in this sequence as a ping-pong juggler. The folks who make the cut: Eugene Levy's nervous dentist Dr. Allan Pearl, travel agent couple Catherine O'Hara and Fred Willard, and Parker Posey's Dairy Queen employee Libby.
Their musical includes such numbers as "Stool Boom," "Nothing Ever Happens on Mars", and "A Penny for Your Thoughts." The choreography is amazingly awful, the accompaniment very synthesized, and thus the perfect mess that is this movie is created. Corky's protegee Johnny Savage (Matt Keeslar) flakes out the night of the big show, so Corky has to take his place onstage. Meanwhile, the group eagerly awaits Mr. Guffman, a representative from a New York City agent.
There is so much that is wonderful about Waiting for Guffman, but my favorite part is the lines that Corky St. Clair spouts when he's upset. "You're bastard people," he accosts the city council. "I'm gonna go home and bite my pillow, that's what I'm gonna do." There's also his classic, "I just hate you and I hate your assface," which has unfortunately never truly entered the lexicon, no matter how many times I quote it. Other bonuses: David Cross appears as a UFO expert, and an OK Cola machine features in the gym backdrop.
For the diehard Waiting for Guffman fan, I found the exterior backdrop for Corky's apartment through Google Maps. The Texas Film Hall of Fame honored Guest's film with the Star of Texas Award in 2010. Catherine O'Hara accepted; you can view her speech here.
Waiting for Guffman is currently available on DVD
and Amazon Instant Video
(the streaming video is free if you have Prime).
[Title card graphic via Movie Title Cards]