AFF Review: Searching for Sonny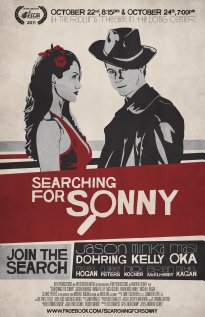 I was discussing Austin Film Festival with a friend yesterday and surprised to learn he had never heard of BriTANick, the wildly hilarious duo Brian McElhaney and Nick Kocher. The two have been writing, acting and producing comedic short films online for several years and last year brought Eagles Are Turning People Into Horses (which you can and should watch online) to SXSW. They have begun to appear in TV and feature film roles, including the upcoming Joss Whedon surprise Much Ado About Nothing. They came to AFF this year with the outstanding Searching For Sonny, written and directed by Ft. Worth native Andrew Disney.
Jason Dohring stars as Elliot Knight, an unsuccessful 28-year-old pizza delivery driver. Depressed by his lack of accomplishments, Elliot's neuroses include envy of Jesus Christ for being wildly successful before the age of 30.
Jason receives a surprise invitation to his 10-year class reunion from his estranged best friend, Sonny (Masi Oka). As soon as he arrives at the reunion, he meets up with twin brother Calvin (Nick Kocher) and classmate Gary (Brian McElhaney). Together, the three of them set out to find Sonny, following clues left on their postcard invitations, and uncover a larger scheme involving their former high-school principal.
In their online videos, Kocher and McElhaney's double act usually requires them to trade the straight man role back and forth. Dohring's deadpan lead allows them both to ham it up here, making Searching for Sonny wildly hilarious.
Narrated by Clarke Peters, Searching for Sonny combines the non sequitur style of a BriTANick comedy with a film noir. The combination results in something akin to Bryan Fuller's work in Pushing Daisies, only less romantic and cute. Kinky and subversive, dark and outrageous, Searching for Sonny is the funniest movie I've seen all year. I'm eager to see more work from Andrew Disney.
Texas connections: Searching for Sonny was shot in Fort Worth, Disney's hometown. Recognizable locations include Ol' South Pancake House, TCU, Spinks Airport and Trinity Valley School. Fans of Austin movies may recognize local actor Chris Doubek in a small role as a psychiatrist.
Read Jenn's interview with Andrew Disney for more details about Searching for Sonny, which was filmed in Fort Worth. If you missed the movie at AFF, you can catch it at the Lone Star International Film Festival in Fort Worth, where it screens Saturday, November 12 at 7:30 pm at AMC Palace 9.